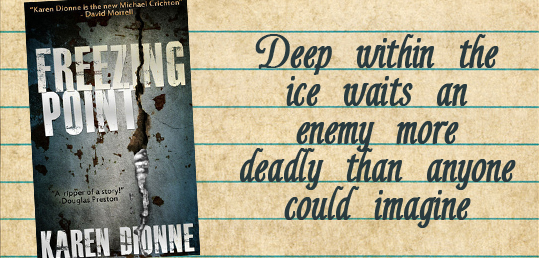 "An action-packed scientific disaster thriller"

The plan: (1) Melt Antarctic icebergs into drinking water. (2) Ship the water to thirsty nations around the globe. (3) Make a fortune.
The reality: No one can foresee the true danger hidden deep within the ice …
Buy NOW @ Amazon

Ben's trip on the Arctic Dawn trawler to "lasso" an iceberg was interesting enough but then disaster struck and I was hooked. The nail-biting scenes continued throughout the book, chasing me from the perils of the sea, to those of the freezing temperatures of the Antarctic, onto man-eating rats, killer viruses and infected water; not to mention the common-or-garden, but equally scary, corporate profit mongers who would do pretty much anything to increase their fortunes.
The setting of this book makes it different and fascinating, throw in a bunch of corporate bad guys and the perils of messing with nature and you have an action-packed, thrilling page turner. I was a bit confused at first as to who was who, what their agenda was and which bit of ice they were on, but once I had that sorted out and the various plots intertwined, I couldn't wait to find out what was going to happen.
The characters were likeable and you root for them as their already challenging situations go from bad to worse. Zo and Ben were particularly engaging and both went through a lot of trauma to save their colleagues. The story is told from multiple points of view which increases the impact of all those affected. The action and disasters are pretty full on and continue ramping up from scene to scene. If you fancy a scientific disaster thriller with everything from towing and melting icebergs, to helicopter crashes, a plague of killer rodents, unexplained illnesses and tsunami-like waves, this is the book for you!

"Inside!" Jack screamed to the deck. "Now!"
"There's no time!" Derek wrapped his safety line around the rail, yanked the survival suit hood down over his head, and hugged the rail in a death-grip, bracing for the killer wave they all knew was coming.
***
What he wasn't prepared for was the violence of the attack, nor the speed. One minute the seal was blissfully sunning itself like an overweight matron at the beach, and the next, the ice ran red. Simon turned his head, but he could still hear the sounds: the rats' squeals and snarls and the doomed seal's bellows. And he could still smell the carnage: blood, and fecal matter, and raw meat.
***
How about a trailer? Fun, huh!

If you would like to read more about Zo and Ben's story in "Freezing Point", buy your copy TODAY from Amazon.

Learn a little more about the author and the book with these snippets of previously unknown trivia that Karen has been kind enough to share!
About you
I write science thrillers in the tradition of Michael Crichton's The Andromeda Strain and Jurassic Park, but I don't have a science degree because I dropped out of the University of Michigan after just one semester to marry my artist husband. During the early years of our marriage, we made our living selling his stoneware pottery at art shows. Creativity has always been a big part of my life, but I still love science. So by writing science thrillers, I get to research and learn about the topics that interest me, while weaving them into an entertaining story. Best of both!
About the book
Most people don't know that the original version of Freezing Point ended with what I now call Part Two. Part Three, or what I think of as the book's second ending, came about as a result of a phone consultation with New York Times bestselling thriller author Gayle Lynds. Even though she'd read just the first 50 pages, she wanted to discuss the book's ending. When she told me that a thriller has to end with "a final confrontation between the bad guy and the good guy, both verbal and physical," I knew my story wasn't finished, and wrote Part Three. Now I can't imagine the story without it!
Regarding the book's title, I originally called the story "Selling Antarctica." But when Gayle read my opening chapters, she suggested I change it because the title made the book sound like it was nonfiction. I polled my friends, and we came up with "Cold Water," which I loved. But when I sent the same 50 pages to David Morrell (creator of the character "Rambo" and father of the modern action novel) for his comments, he worried that titled like that, I'd be setting myself up for reviewers to say, "I don't want to throw cold water on the book, but–" David suggested "Freezing Point," and that title stuck!

Connect with Karen Dionne on Twitter, Facebook or http://www.karen-dionne.com/
Freezing Point stats:
Amazon.com rating: 3.9 out of 5 stars from 165 reviews
Goodreads rating: 3.46 out of 5 stars from 410 ratings
Price: $3.99
Pages: 320
(Correct at the time of writing.)