48 Hours by J Jackson Bentley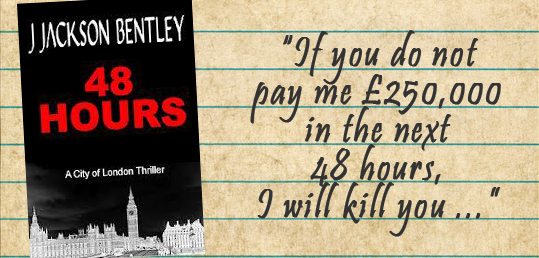 A gripping thriller you'd be crazy to miss …
… especially as it's FREE.

"If you do not pay me £250,000 in the next 48 hours, I will kill you after noon on Friday!"
Josh thought it was a joke, but when he was attacked in broad daylight and people around him start to die, he knows that his blackmailer is deadly serious.
Can Josh raise the money? Can his attractive new bodyguard protect him? Who is blackmailing him and why? He has 48 hours to find out.
Buy NOW @ Amazon

The premise of this novel is intriguing and seeing how the story unfolded was exciting and kept me turning the pages. At various points throughout the book, the plot seemed to end, but then another twist or turn would appear and the net over the bad guy would close ever tighter.
A key attraction of the overall story was that I could imagine it happening in real life to me or someone I knew. As crazy as it seemed at first, the baddie's subsequent actions show you just how serious he is and you wonder what you would do in similar circumstances. My only question about the plot was whether Josh would really have had so much access to the facts being gathered as part of the investigation.
The characters were another plus point of this book – they are still memorable after having finished the book and read other things. Josh was a bit wet when it came to women, which was actually a refreshing change, but I could feel for him and his situation all the same and wanted to see him get justice. I loved Dee – she was a tough-as-nails heroine, calm under pressure and resourceful. I especially enjoyed the clever clues she left in the video messages. But would she fall for Josh? Probably not, but their relationship seasoned the story with romance.
I appreciated the scenes told from the bad guy's point of view. It made his motives seem reasonable and I even felt a pang of understanding for him.
Overall this is a gripping thriller you would be crazy to miss – especially as it's FREE!

"Usually blackmailers tell you not to call the police etc. etc. This is both boring and unproductive as people always do. Feel free to call the police or anyone else you care to, the fact is it will take you 48 hours to persuade them that this isn't a wind up and by then you will either have paid me or be awaiting your fate."
***
"Josh, it's taken me ten years to train you, to get you to where you are now, so don't you dare waste all of that effort by getting yourself killed, all right?"
I assured him that averting imminent death was already a priority for me, and on that note we parted.
***
"Mr Hammond, I have to be honest with you here. I'm not sure that there's very much we can do to help you yet."
"You mean until after I have been killed?" I replied.
Simon says: I could just imagine this being the reaction you'd get from the police – scary stuff.

If you would like to read about Josh's traumatic few days in "48 Hours", get your FREE copy TODAY from Amazon.

Learn a little more about the author and his book with these snippets of previously unknown trivia that JJB has been kind enough to share!
About you
As you may have guessed I am a legal consultant for most of my time and an expert witness who has given evidence five times in 2013, three times in London and twice in Dubai. In this position I hear about many legal issues the general public are unaware of and I get access to courts, police headquarters and buildings the public cannot enter. I know ex SAS, military and police types who love to suggest ways of killing people and I get to see and hear about prototype weapons from them.
I loved the TV series the Avengers, Diana Rigg version, and from the moment I saw it I knew that I wanted to write. Brian Clemens wrote widely and disparately and despite the simplicity of his writing it was always gripping and fun. Given the chance I would resurrect the Avengers with the government foreign services analyst granddaughter of Emma Peel finding herself drawn into a case because someone is eliminating old spies, including an attempt on her gran's life. Maybe!
About the book
Despite the success of '48 Hours', the first film interest is from the USA for 'Shadow of the Burj'.
I lived in London for a while and working in London for fifteen years and its nooks and crannies and weird street names (Crooked Friars?) fascinate me. I made the hero a loss adjuster because I know some and nearly became one. Dyson Brecht was the name of a proposed company that friends were setting up in the 1980's but they went for an acronym based name instead. I know Toby (not his real name) personally and he is exactly the same as the character. Two of my sons are forensic computer analysts who do work for the police in the UK and USA, one, appears in the book under his own name. Dee Hammond is (unashamedly) a modern day Emma Peel (see above). I love Dee and so from a small part, she developed into the link through a number of books and has one last hurrah awaiting.

Connect with J Jackson Bentley on Facebook or Twitter
Website: http://jjacksonbentley.blogspot.co.uk/
48 Hours stats:
Amazon.co.uk rating: 4.2 out of 5 stars from 659 reviews
Goodreads rating: 3.35 out of 5 stars from 252 ratings
Price: FREE
Pages: 335
(Correct at the time of writing.)