Shadow Harvest by Emily Kimelman
After three months of Write or Die challenges with my good friend Emily Kimelman, "Shadow Harvest (Sydney Rye #7)" is now live.
If that's not cause for celebration, then I don't know what is!
I'd like to put the timely publication down to my inspiring, kick-ass emails to Emily. Why? Because it makes me feel good! But I suppose, as I'm rightly or wrongly taking some credit for Emily's amazing productivity, I should point out that she is single-handedly responsible for "Ethan Justice: Guilty" hitting the shelves in record time too 🙂
While Emily didn't actually write any of my story – was that too much to expect? – her support has pushed me to get things done like never before – no creativity-enhancing drugs involved!
But enough of how great a person she is, as it happens she's a damn good author too, so get yourself across to Amazon now and give the Sydney Rye books a try!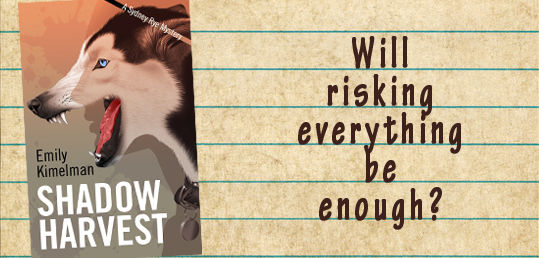 On a private island in the middle of the Pacific Ocean, Sydney Rye is studying hard, learning about the structure of the the vigilante network Joyful Justice and their active missions. Finally comfortable being the inspiration of the organization, she is preparing to take her place as their leader.
However, when Sydney Rye's good friend and fellow Joyful Justice council member, Merl, goes missing in Shanghai, she and her faithful dog, Blue, rush to the People's Republic to track him down. Following Merl's trail leads Sydney to probe deep, dark corners of corruption where she witnesses atrocities that make her already cold blood freeze.
With time running out and powerful forces closing in on her, Sydney is willing to risk everything to save her friend, but will everything be enough? Find out in "Shadow Harvest".
"Best of the Sydney Rye series! " ~ Amazon reader
"Action filled adventure, great story, fascinating characters!" ~ Amazon reader
This is the seventh book in the 'Sydney Rye' series but also reads as a stand-alone story. Grab your FREE copy of the first book, 'Unleashed' while you can. Check out my review if FREE isn't a good enough incentive! And don't miss the 30% discount on books 2 to 6 for a limited time during this launch.
Emily's Favourite Quotes from 'Shadow Harvest'