Write Or Die!
"Do you want to battle?" fellow author Emily Kimelman asked me back in April.
At first I thought I must have done something to upset her and she was gunning for revenge. So I looked around for places to hide until she explained further. Luckily she didn't mean with weapons, but with word counts. Being just the motivator I needed to crack on with "Ethan Justice: Guilty" (#4), I agreed.
After a sleepless night believing I had let myself in for a whole heap of ridicule, I settled down to the task. But Emily is a force to be reckoned with. She can punch out words faster than an Uzi spits bullets so I'm damn pleased that she wasn't suggesting mortal combat.
The timing of the challenge couldn't have been better. My mother-in-law had just arrived for a holiday so locking myself away from dawn till dusk was the perfect excuse to avoid her sharp and lashing tongue!
Here is a picture summary of my progress – from clean shaven and bright eyed, moving on to disheveled and hairy faced, and finally to overjoyed and full of wine!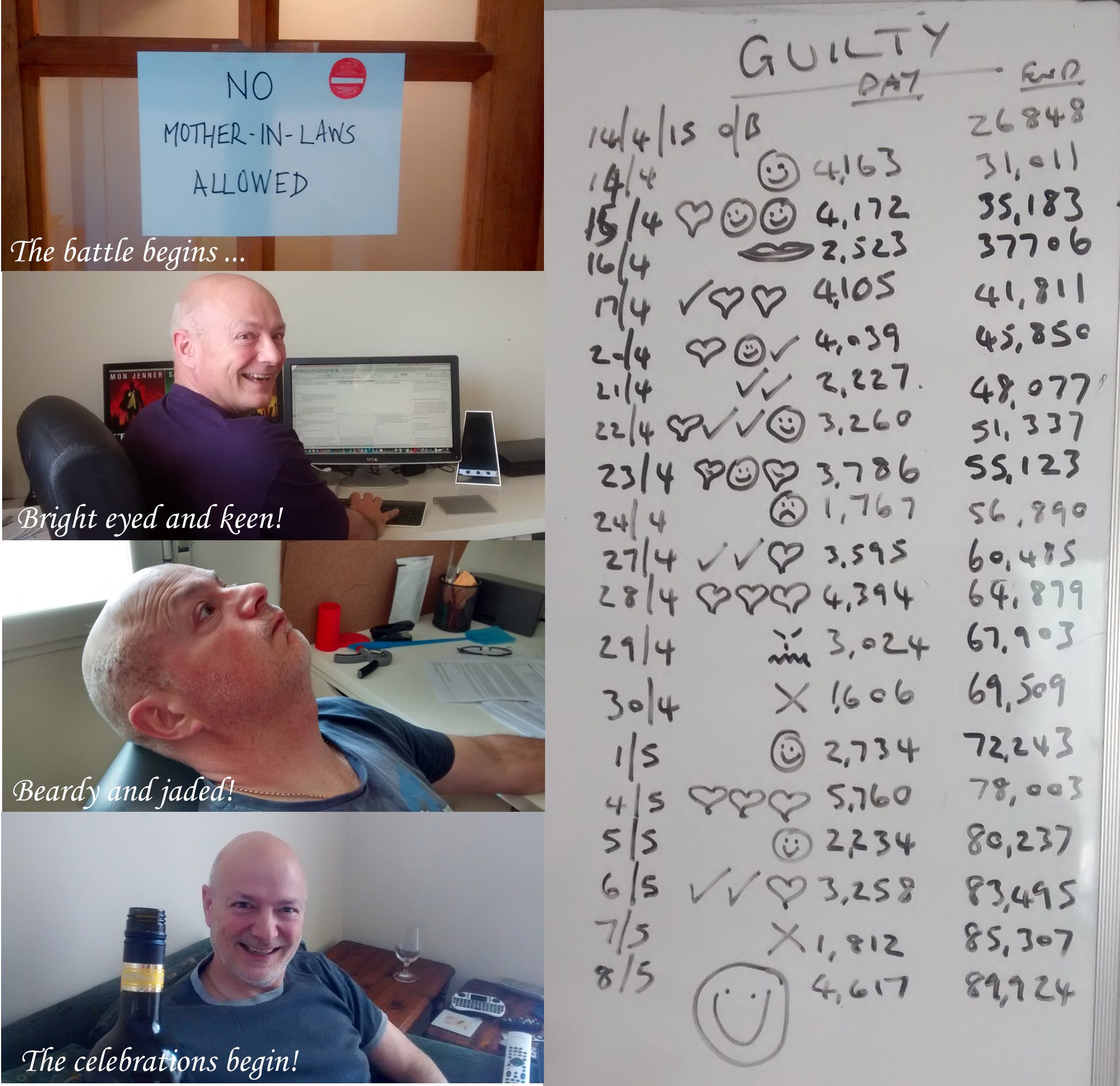 As you can see on my progress board, in just under 4 weeks I went from the start of a book to a complete first draft – my faster ever!
(Do you like the smiley faces by the way? That column was my wife's way of letting me know how I was doing. One day, we'll have to try talking!)
Now faster writing is meaning longer editing, but I'm on the case and while you wait, why not guess what the final word count will be (even I don't know yet!) and enter my competition to win your name in my next book.
To find out more about this exciting opportunity to be immortalised in writing, click here: "Name A Character" Contest