"Name A Character" Contest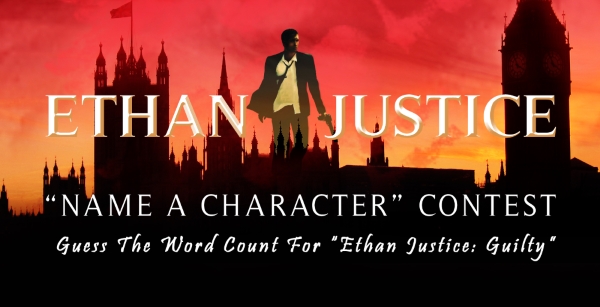 Thank you all for your entries.
The contest is now closed and the winner is … Debra with her guess of 115,708 words.
The final word count came in at 113,846. I got carried away!
Watch out for Debra's chosen name of Daniel or Bronte in my next book!
***
Guess the Final Word Count for "Ethan Justice: Guilty" (#4)
to Win Your Name in my Next Book
One lucky winner has the chance to win a prize money can't buy … to be immortalised in writing.
Ever dream of seeing your name in print? Well, here's your chance!
***
After a four-week stint of "Write or Die", I'm now editing "Ethan Justice: Guilty".
As you can see on my progress board, the first draft came in at 89,924 words.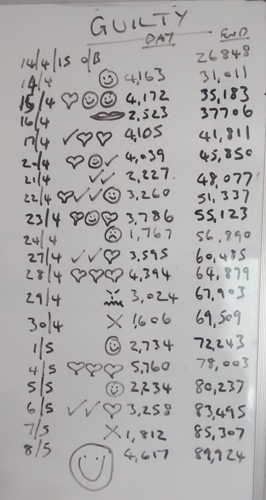 Why not take a guess at what the final word count will be to win your name featured in my next novel.
How To Enter
You have until Friday 3rd July 2015 to let me know your estimated final word count for "Ethan Justice: Guilty".
Please submit your guess in any of these three ways:
As a comment at the bottom of this blog post.
On my Facebook page – http://www.facebook.com/SimonJennerAuthor – just leave your guess as a comment on the contest post.
Via Twitter – just copy and paste the following tweet or click HERE to auto generate the tweet and replace the dots with your guess: My guess for the #EthanJustice4 final word count is … @simonrjenner "Name a Character" Contest #WIN http://smarturl.it/NAMEACHAR.
Please only enter once. I will tally up the words on Saturday 4th July 2015 (whether the final edits are complete or not). The person whose guess is the closest will win their name in my next novel!
Good luck!
A Few Rules
You may choose your own name or make one up to be featured as a minor character in my next book. You may also choose whether your character is a good guy or a baddie.
I reserve the right to not use the winning name and ask for alternatives if it is unsuitable for my character. Your name or the name of your choice cannot be inappropriate, offensive, belong to a minor or someone famous.
Only the name of your choice is being used, not you as a person. All creative decisions regarding this character and their actions reside with me.
The winner will receive an email from me on or before 6th July 2015. They must respond with their choice of name before 13th July 2015 or another winner will be chosen.
There is no cash value for this contest – it's priceless!
My next book may be from the Ethan Justice or The Evolved series or something completely new. I make no promises as to publication dates.
Please check out the full contest terms & conditions here: http://simonjenner.com/name-a-character-contest-terms-conditions/.