Fan-Only Content
Welcome to my FAN-ONLY CONTENT area – exclusive content, news, offers and giveaways to keep you entertained while I write my next book!
I hope you enjoy it, but if you have any ideas as to the type of exclusives you would like included, please drop me a line.
***
Ethan Justice: Training Days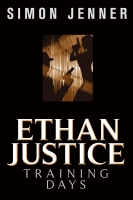 This mini-book is EXCLUSIVE to Ethan Justice fans only.
Follow Ethan and Savannah after Incendiary and before Guilty as they undergo much-needed training in the fields of combat and firearms. However, with Agent Johnson's interference, what they expect to be straightforward quickly becomes a very painful lesson.
Grab your e-book formatted copy HERE or read the four chapters online using the links below.

Catch up with Ethan and Savannah as they undergo some much-needed training after their exploits in Ethan Justice: Incendiary.
Ethan felt the reverberation throughout his body as his opponent's back hit the mat. Using his advantage, he dropped to the cushioned floor, pressing one knee into her neck while the other pinned an arm. Read more …

By popular demand, here is the follow up to 'How About A Kiss Instead?', Ethan and Savannah's first attempt to put their Earthguard training to the test. I hope you like it.
Neither opponent budged an inch as Ethan and Savannah sped towards them. Ethan pulled up two yards short of the taller man, eyes glancing to his right to see Savannah's body launch feet first into the air. Read more …

Join Ethan and Savannah as they begin their firearms training. If you missed their combat exercises, catch up here with 'How About A Kiss Instead?'.
A tall man with dabs of silver hair at the temples marched Ethan and Savannah down a narrow corridor. At the end of the dimly lit space were two steel doors facing each other. Read more …

Find out how Ethan and Savannah fare behind the "other" door in their firearms training. If you missed the opening scene, catch up here with 'Zero Aptitude With A Gun'.
Johnson directed Ethan and Savannah into adjoining booths and announced his first words of gun-toting wisdom without a single weapon in sight. Read more …