Ethan Justice: Relentless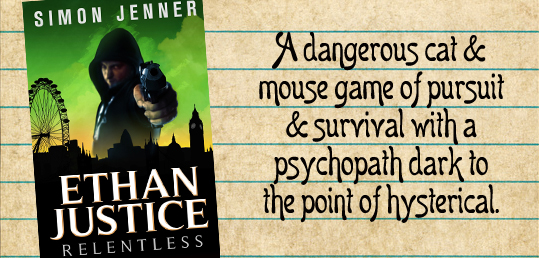 Today he's crowned a hero.
Tomorrow he'll be fighting for the lives of his loved ones.
The time for Mr Nice Guy is over!
With the feisty Savannah Jones by his side and new landlord, Richard Windal, offering detective work, Ethan's life seems perfect. But Savannah's first run-in with Windal uncovers his darker side, and it isn't long before the self-proclaimed do-gooder is butting heads with Ethan.
A missing person's case throws the detective pairing deep into the belly of an underage sex ring, where life is cheap and the scum of the earth come to party. Savannah's gut senses Windal's dirty hands at work, and she'll risk anything, including her life, to prove it.
When Ethan and Windal engage in a deadly game of cat and mouse, the true extent of the lunatic's horrific business interests begins to surface. Windal plans to destroy those closest to Ethan's heart to prove his superiority and to bring his nemesis to his knees. Can Ethan save the people he loves and defeat a psychopath dark to the point of hysterical?
When Justice and Jones get under Windal's skin, the result is RELENTLESS.
Ethan Justice: Relentless is a fast-paced, action-packed, character-driven thriller, guaranteed to make you laugh out loud, cringe, cry and cheer.
This is the second book in the 'Ethan Justice' series but it also reads as a stand-alone story.
Please grab a copy today via Amazon US or Amazon UK and let me know what you think.
Reviews Of Ethan Justice: Relentless

"RELENTLESS will give you the creeps in places, make you want to cheer and laugh in others and entertain you throughout." ~ Scott Matthews, Author
"Simon Jenner returns with another book in the brilliant Ethan series." ~ I Wanna Be Adored
" ... started off great and then just got better and better. If anything I liked it better than the first one ... a terrific adventure, peppered with humour, drama and of course a dark side ..." ~ Liz Loves Books
"I love a book with a bad bad guy and the bad guy in this book is very very bad ... I think I am developing an Ethan Justice Crush!" ~ L. Pilcher via Goodreads
"This is a great new series that should be getting a lot more attention than it does." ~ Jody via Goodreads
"Just finished reading both of the Ethan Justice books and I am hooked! When is the next one coming?" ~ Sybil via Goodreads
Ethan Justice: Relentless Extras