Ethan Justice: Relentless – Cover Design Process
I'm very excited to have the cover for Ethan Justice: Relentless back from the designer.
What do you think? I hope you like it.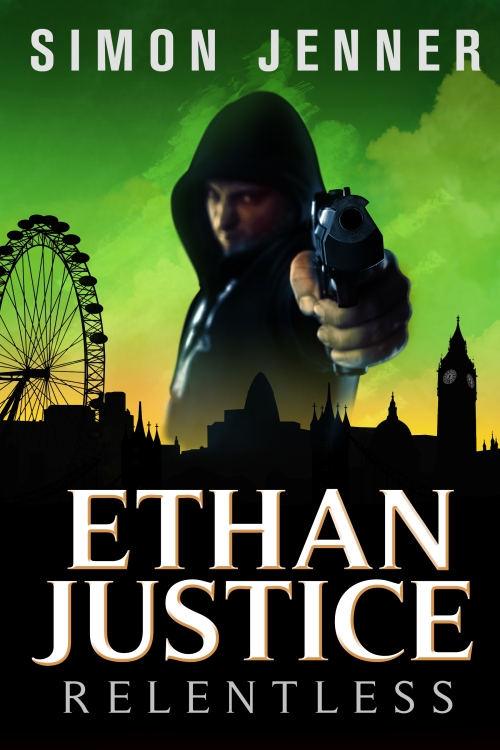 The Cover Design Process
I thought it might be interesting to share how the cover came to be, so here is the process we went through.
It is the second book in the series so had to look similar to Ethan Justice: Origins. That cover also won an award so it made sense to stick with the overall idea.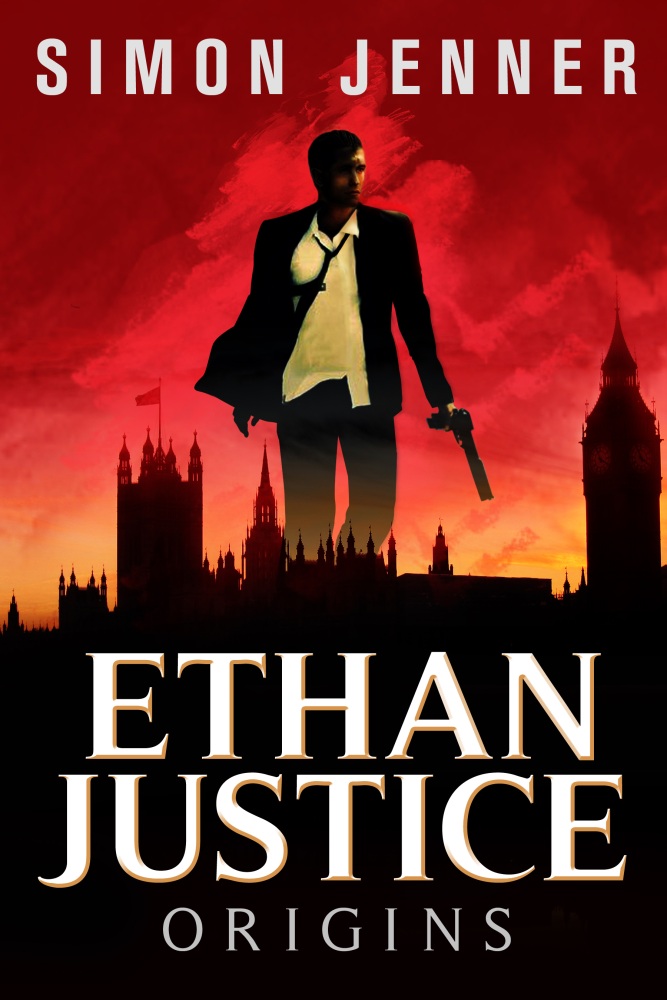 It is still set in London so I wanted a London skyline but a different one from Origins. I decided that the London Eye was quite iconic so found this image to work with.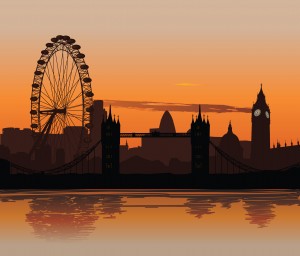 I needed a new 'character' to be the main focus of the cover. A gang called the 'Darks' feature in the novel so I wanted to use an image of a menacing gang member in a hoodie. I found this stock image.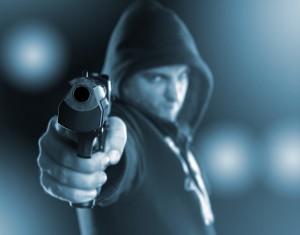 I wanted to change the colour from the vivid red on the Origins cover so the new book would be noticeably different. I decided on green quite early on as the baddie in Relentless is quite a sicko (be warned) and green seemed appropriate. I know it is not a typical colour for thrillers so did get some alternatives. The first mockup was orange. The gang member was flipped horizontally to balance out his arm with the London Eye.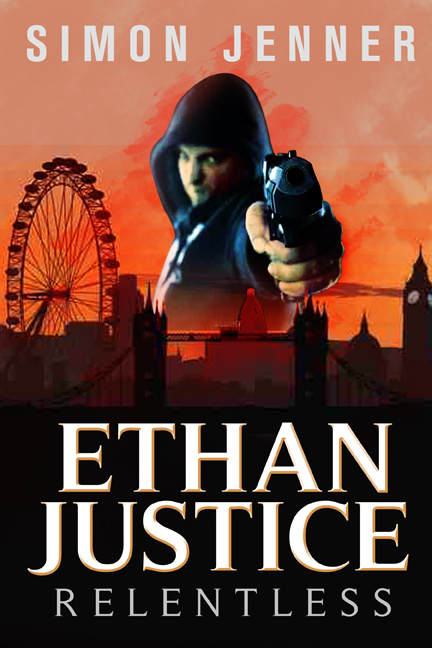 The gang member's clothes in the stock photo needed to be tweaked to black rather than blue. The skyline also needed to show less detail. We then tried a blue background which I did like but am saving for Ethan 3.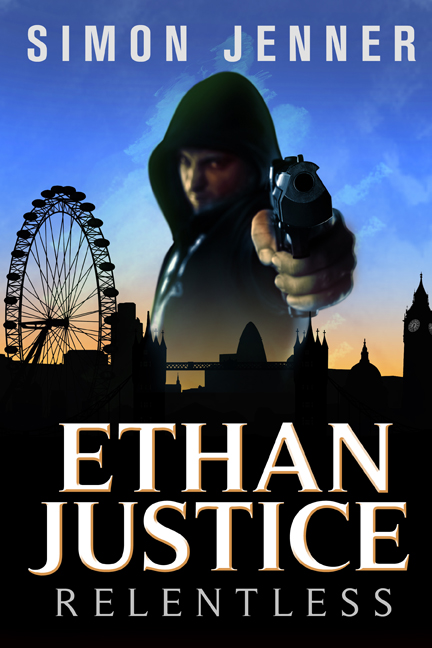 So we went back to green but I didn't like the first shade.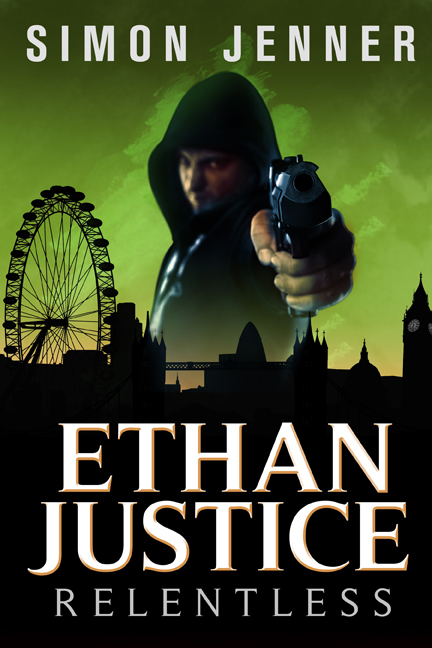 I wanted a bit more yellow to brighten up the whole cover (I know it's a thriller but still). The whole skyline also needed tweaking – pushing over to the left to interfere less with the main character and removing the bridge section so it looked a bit smoother. The final two shades of green were put forward and I went with the most vivid – the one on the right! Da dah!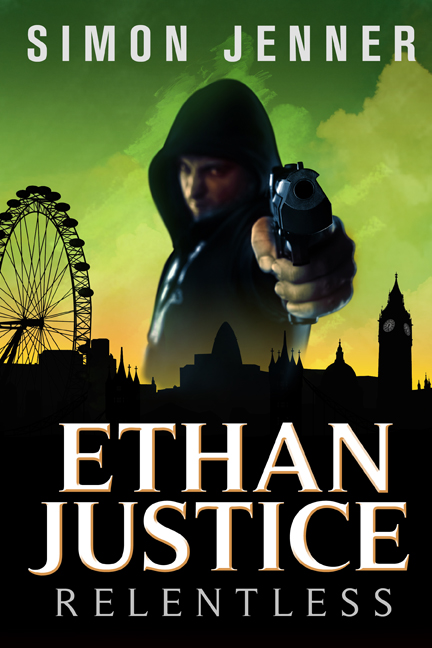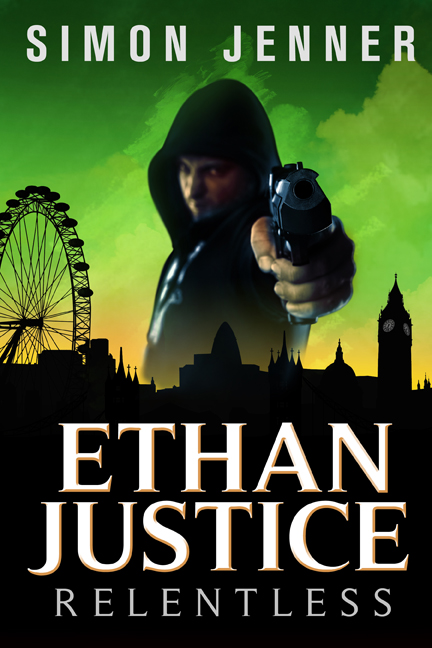 Ethan Justice: Relentless
Ethan Justice: Relentless is the second in my action thriller series (although it is a stand-alone tale).
Ethan and Savannah get their first client – a distraught mother looking for her missing teenage daughter. As they set out to help, they find themselves in a dangerous cat and mouse game of pursuit and survival when they cross paths with Richard Windal, a cool, confident and highly influential yet psychotic entrepreneur.
Read more about it HERE or BUY NOW from Amazon US or Amazon UK.
Please help me spread the word by telling a friend. Use the 'Share' icons below. Thanks!