Ethan Justice: Origins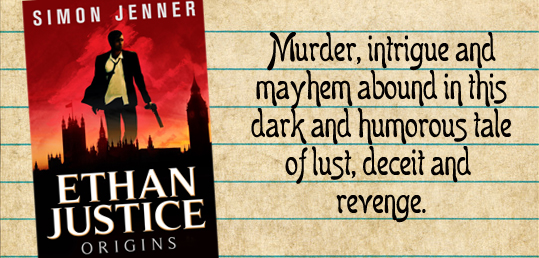 Buy Now @ Amazon US or Amazon UK
In the morning, he's struggling to remember.By the evening, he's struggling to survive.John Smith's risk avoidance policy just expired!
Waking up beside the gorgeous Savannah Jones, John is shocked to learn she was for hire, and he can't pay the price – a thousand pounds or broken legs. In desperation, he turns to best friend, Mark, for the money. Only one problem – Mark has a dagger in his back.
John and Savannah are plunged into a dangerous world where wits and adrenaline are their only weapons and trust in each other their only certainty. As the body count mounts, they discover Mark wasn't the person John thought, and his terrifying invention may well end up killing thousands, John and Savannah included.
A race to recover the missing invention pits the unlikely pairing against ex-SAS psychopath, Gregory Fisher, a man who will stop at nothing and kill anyone in his way to wreak revenge against the Government who stole his livelihood.
When Smith and Jones team up, the result is explosive.
This is a fast-paced, action-packed, character-driven thriller, guaranteed to make you laugh out loud, cringe, cry and cheer.
Please grab a copy today via Amazon US or Amazon UK and let me know what you think.
Reviews Of Ethan Justice: Origins

"This book grabs you by the throat and doesn't let go …" ~ Scott Matthews, Author

"I was very pleasantly reminded of the old noir tales. Action, drama, and romance well seasoned with sarcastic humor … the antagonist, 'He's too twisted for color TV!'" ~ Jim Wright, Author

"Simon Jenner has struck literary Gold with his debut novel …" ~ I Wanna Be Adored

"What a great thriller to ignore the housework with!!" ~ Reenie's Book Blog

"I got this book yesterday and literally couldn't put it down. … I have always been a big fan of the Jack Reacher books but if I was told you can read Reacher or Justice but not both then I would choose Ethan Justice every time." ~ S. Curran via Goodreads

"… as good as the Jack Reacher, Alex Cross's of the literary world." ~ L. Pilcher via Goodreads

"… a combination of Lee Child's "Jack Reacher" character and F. Paul Wilson's "Repairman Jack" in a very likable way." ~ Jody via Goodreads

"If you like your villains BAD, your heroes…..heroic and your heroines sassy then this book is for you." ~ Carter's Mum via Amazon

"… what a fantastic read. I could not put it down." ~ G. Terry via Amazon

"… strong undercurrents of sarcasm that had me smiling …" ~ Quality Reads UK Book Club

"… characters that are quirky, lovable and bound to give you entertainment for many years to come." ~ tunekat via Amazon

"The twists, the turns, you were there with them all the way." ~ Lannie via Amazon

"Like John Locke's DONOVAN CREED novels? You'll love Simon Jenner's 5-star opener …" ~ Kindle Nation Daily
Buy Now @ Amazon US or Amazon UK
Ethan Justice: Origins Extras
Read an interview with John Smith (aka Ethan Justice) HERE.
Do you judge a book by it's cover? Check out the 'Before' and 'After' versions to see why the new cover won an award HERE.
Don't miss the sequel, Ethan Justice: Relentless, HERE.
Please help me spread the word by telling a friend. Use the 'Share' icons below. Thanks!
Like this post? Subscribe to my RSS feed and get loads more FREE!