A Crime Collection – Author Spotlight – Betta Ferrendelli

It's the second day in the author spotlight series which is celebrating the launch of "A Crime Collection", so today it is my pleasure to welcome Betta Ferrendelli. Check out her book, "The Friday Edition", which you can of course read for FREE if you download the box set HERE!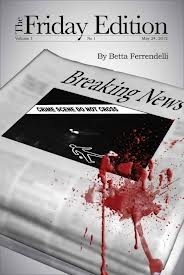 A beautiful Assistant District Attorney falls from her balcony to her demise on Christmas Eve. Police suspect suicide, but the DA's sister, newspaper reporter Samantha Church, doesn't buy it. Can she find the killer and write the biggest story of her career before it's too late and she becomes the killer's next target?

I liked Sam and could feel her struggles – the alcoholic theme was interesting, heart wrenching and well done. There was a good mix of characters – Wilson was kind and Brady was interesting. The bad guy's point of view offered a refreshing change up in the plot and the mystery was well woven. I hadn't guessed about one of the bad guys and didn't quite believe it right up to the point of admission, but at least he had the decency to help Sam in the end.

Simon: What advice would you have offered Sam if she'd come to you with her suspicions after first hearing about Robin's death?
Betta: Had Sam come to me with concerns about her sister's death, I would have told her to follow her instincts to find out what really happened to Robin. It's what reporters do!

Learn a little more about the book with these snippets of previously unknown trivia that Betta has been kind enough to share!
My main character's name is Samantha as I wanted a main character that would have a unisex name and could be used in various ways, depending on what her relationship is with the other character, Sam, Sammie, etc.
The title of the book, The Friday Edition, comes from the fact that Sam works at a weekly community newspaper, which publishes once a week on Friday, hence The Friday Edition. One of the newspapers I also worked at from 1992-1997, was similar to the type of newspaper I write about for the series, except we published on Wednesdays and The Wednesday Edition just didn't sound good!
The publisher in The Friday Edition is very much modeled after the publisher I had while working at this weekly in the 1990s. A wonderful man, who is still a part of my life today.
Now for some quick glimpses into Betta's life so you can 'meet' the author behind the book!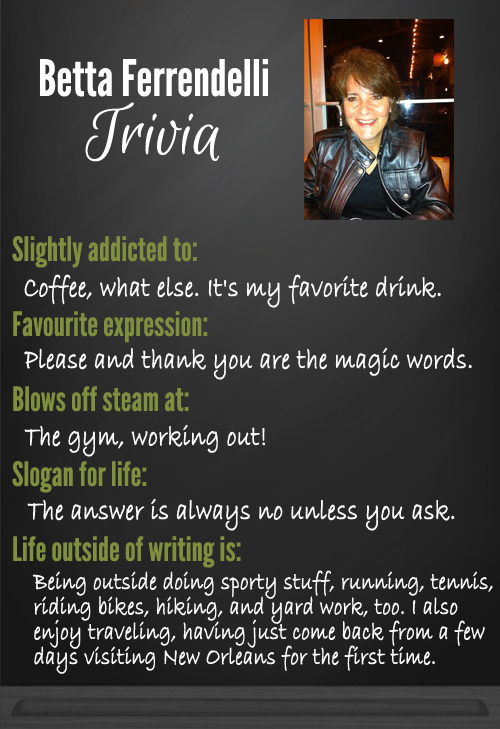 Connect with Betta Ferrendelli on Twitter, Facebook or http://www.bettaferrendellibooks.com/
The Friday Edition stats:
Amazon.com rating: 4.4 out of 5 stars from 288 reviews
Price: $2.99
Pages: 314
(Correct at the time of writing.)