Bloody Mary – A Killer Thriller Review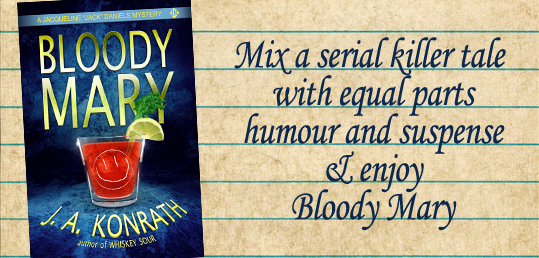 "An agreeable mix of humour, mystery & thrills"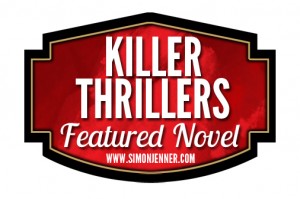 Killer Thriller Features offer you more than just another review.
Learn more about the main character, glimpse into the life of the author and enjoy a 'special feature' for thrillers I have read and personally recommend.

A sick killer causes Lieutenant Jacqueline "Jack" Daniels a major headache by attaching her possessions to the removed body parts of his victims.
Who is close enough to her to have access to her belongings?
Buy NOW @ Amazon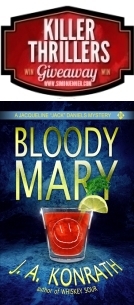 A Killer Thriller Giveaway – Now Closed
I am giving away an e-copy of Bloody Mary to the first two lucky thriller fans who sign up to my Killer Thrillers Newsletter after the date of this post.
Congratulations to Eden and Marsha on winning this Killer Thrillers giveaway.
The Killer Thrillers Newsletter is FREE and will include exclusive news, deals and giveaways on great thrillers that I personally recommend.
Just enter your email address below and click "Enter" to be in with a chance to win.
Two winners will each receive an e-copy of Bloody Mary (valued at $3.99) as a gift via Amazon. The 'first' two winners will be determined by the time and date of subscription as shown by MailChimp.

Please welcome Lieutenant Jack Daniels.
Jack,
What one thing do you wish you'd done differently during "Bloody Mary"?
I should have killed him when I had the chance.
What one thing do you have in common with Joe?
We both never give up. Also, we both like whiskey. But Joe's tastes in whiskey are more expensive than mine.

Joe,
Which is your favorite scene from "Bloody Mary"?
The last three paragraphs. And the last line. That's one of my favorite last lines from all of my books.
What one thing do your fans not already know about you from your author bio, website or numerous interviews? A fascinating tidbit, a guilty pleasure, a deep dark secret, an embarrassing moment …
I have 1500 beers in my beer cellar. If there is a zombie apocalypse, I'm set.
What one indie thriller (other than your own!) would you recommend and why?
Pushed Too Far by Ann Voss Peterson. Terrific book, and there's a cameo by Jack Daniels in it.


If you're not yet convinced to give Bloody Mary a try, here's what I liked about it:
The pace: The book is quickly into its stride and never lets up thereafter. Action sequences are interspersed with Jack's personal issues, investigations and bags of humour. The mix works well and keeps the reader on constant tenterhooks as the pages roll by without you noticing.
The antagonist and his assistant: If you like your villains disturbed, then this pair will not fail to delight. Definitely not everyone's cup of tea but for me they made the thrill of the chase doubly rewarding. I think the author found the perfect balance of detail, ensuring that most of the horror was not on the page but in the mind of the reader.
A great scene: The taking down of a drug-addled killer, high on a new drug mixture that gives the taker the almost endless ability to soak up pain and injury. It reminded me of the drugs in 'Alien Nation' and 'Robocop'.
Overall: Jack Daniels is in her forties, tough and as unlikely a heroine as you're likely to find. Her personal problems constantly get in her way, particularly her aging sex-mad mother, her tangled love life and her partner, Herb, who is suffering a mid-life crisis of epic proportions. Is it more comedy or thriller? You'll have to read it to make up your own mind. Overall it is an easy entertaining read. It never veers into glorified detail of the sick nature of the crimes but lets your imagination do the work for you. It has an agreeable mix of humour, mystery and thrills to keep you reading from page one to the climactic end.

If you would like to read about Jack's exploits in "Bloody Mary", buy your copy TODAY from Amazon.
Connect with J.A. Konrath on Facebook or Twitter
Website: http://www.jakonrath.com/index.htm