Meet Jay Tessier – Hero Of Elly's Ghost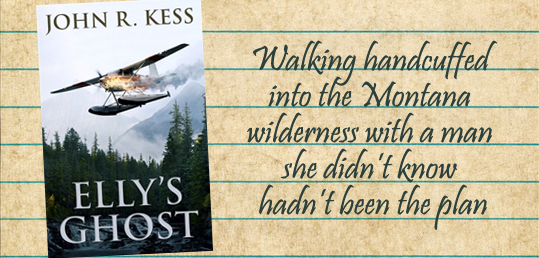 "A light & entertaining romantic thriller"
Buy Now @ Amazon
For a full review of the book, please scroll down. In the meantime, please welcome Jay Tessier, the more than capable Marine from Elly's Ghost.
Have your heroics in the Montana forests helped to dispel the traumatic memories from the Afghan desert and of Ben's death?
I don't believe my memories of the Afghan war will ever be dispelled, however with Elly's help, the memories are fading to where they no longer interrupt the present moment as much as they once did. I still hear a pop and think gunfire first, backfire second. Ben's death too will forever be a part of my past, along with the wonderful memories of growing up as best friends. Elly helped me see the path and purpose of my life and Ben was a big part of that path for which I'll forever be grateful that he was my friend.

How do you think things would have turned out for Elly if you hadn't been at the airport that day?
The men trying to take Elly were well motivated and well organized. They had a very elaborate plan to extort money from her parents in exchange for her life. If I hadn't been there, I'm certain they would have taken her and executed that plan. It would have been a horrible experience for Elly. I don't want to think about whether or not she would have lived through it.
What were you thinking when the floatplane's engine was overheating?
I was thinking of all the bullets that missed me, and there's no way I'm going out like this. I was also thinking that my dad's plane had never let me down before, and luckily for us, it kept us alive.
What did you do in the forest for those few days before you turned yourself in?
For the first time in a long time, I had time to think. Montana is my home and being out in nature is where I clear my head. No desert could do that for me. I thought of my family, what's next for me, and processed what Elly and I had just experienced. My time in the forest allowed me to see what was truly important to me.
What one thing do you wish you'd done differently?
I wished I'd have come to the conclusion I needed Elly in my life much sooner. Sometimes it takes awhile to realize when we've made a mistake. A really big mistake in this case! Luckily for me, Elly's nice enough to not remind me about it.
Any there any little Tessiers on the horizon?
Elly and I do want little ones someday, but not for a while. We're both still young, so I'd give it a couple years. I want to be off active duty when we have children. Elly's mom is already dropping hints about grand kids. Kelly also wants cousins. I told her "someday."
Thanks, Jay. Please send my best to Elly!
If you would like to read about Jay's heroics in "Elly's Ghost", you can read the first 10% for FREE via the "Look Inside" feature or BUY NOW on Amazon.
Elly's Ghost Review
The plot
No, it's not about a ghost of the spirit variety but instead a Force Recon Marine called Jay. His week of recuperation in a mountain cabin is over before it starts when he witnesses the attempted kidnapping of Elly Wittenbel, a pop superstar. Elly is handcuffed and surrounded by gunmen who have just murdered her bodyguard but her seemingly hopeless situation is rescued when Jay intervenes. Her relief is short lived however when the plane they escape in is hit by gunfire and has to make an emergency landing in the forest close to the airport. The kidnappers are soon on their trail. Can they escape the vast Montana wilderness on foot before they are captured? Find out in this romantic thriller.
The hero
Haunted by the traumas faced as a Marine as well as the memories of loved ones taken from him too early, Jay is a lonely, troubled soul looking to come to terms with his life. But with his training in survival and combat skills, he doesn't hesitate to get involved as Elly's attempted kidnapping unfolds before his eyes.
He is calm and capable as the nightmare plays out and takes control, with the single aim of getting Elly out of harm's way. He looks after her, even wrapping her feet to help her keep moving through the forest, wanting nothing in return. He is the good Samaritan that you would want by your side if the worst happened.
The cast of supporting characters
Elly is not your typical spoiled diva of a pop star. She has worked hard to achieve her success and is paying the price with her physical and mental health. She is humble …
"We have a small following."

Jay thought about Elly flying in a private plane with a bodyguard and wondered about her definition of "small."
… but she is tough. She has to struggle through the wilderness for days whilst handcuffed and wearing clothing that is far from suitable for hiking. She is also loyal and does all she can to help Jay in his time of need when his actions to save her see him accused of being on a "killing spree" by the District Attorney.
The 'could not put it down' parts
The escape in the floatplane only to find the engine groaning and bursting into flames. "The burning plane hung on the wind as they steadily descended in an eerie silence" – you were there with them all the way.
When Jay turns the tables on the hunters, turning them into the hunted. His cool under pressure character is admirable as he lays in wait for the four men on his trail.
The craziest part
The President getting involved in the search for answers as to Elly's supposed plane crash!
Where I was left wanting more
I imagine surviving in the wilderness is a feat in itself. Perhaps a few more hazards of the wild could have been explored for the would-be kidnappers or Jay and Elly.
Why it was good
Elly's Ghost comes up trumps on both thrills and romance. You can feel the tension as the kidnappers get ever closer and the developing relationship between Jay and Elly is pleasant to watch. There are even some comedic moments despite the less than ideal circumstances.
The story flowed well and it was enjoyable to get to know the characters as their journey unfolded. You were rooting for them from the very beginning but you really got to know them by the end.
The pacing was good, the writing was smooth and the story kept my interest throughout. It was a light read with lots of action that didn't get bogged down. I appreciated the ending that carried on further than you might expect and turned the book into more than just a tale of a chase through the wilderness.
PS I also really like the cover! Do you agree?
Buy Now @ Amazon
Connect with John R Kess on Twitter or Facebook
Website: http://www.johnrkess.com/