How To Self-Publish A Personalized Book For Your Kids This Christmas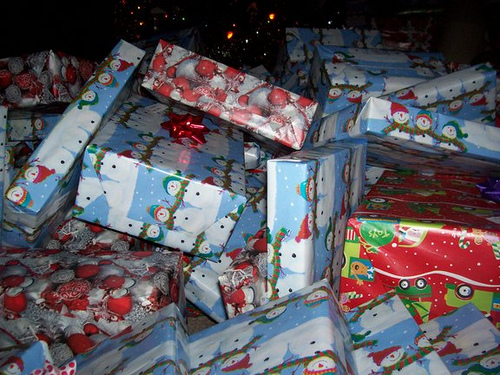 You know how you never know what to buy your kids for Christmas and even when you do it's only because they have begged you for the latest gadget or toy?
And you know how all the gifts they crave are so impersonal and forgettable that they lose their appeal after a week or so?
Well why not take advantage of the new easy to use self-publishing systems that offer print-to-order options and whip up a personalized book for them this Christmas?
I recently published a rhyming children's picture book, "The Mystical Wood", using CreateSpace, the self-publishing arm of Amazon. It was inspired by my son, who even drew the original characters, before I got help from a professional illustrator.
He was so enamoured with The Gruffalo book at the time that when he asked me to write him a story about a dragon, a T-Rex and a giant bumblebee, I thought he would love the result even more if it was in a similar, rhyming style. Anyway he loves it and treasures it much more than any other book on his bookshelf.
When showing the book to friends and family members, a few commented that they loved to make up stories for their kids, so it got me thinking that as the self-publishing process is so simple, more people should give it a go.
Why not spend a few hours writing that story you tell to your kids at bedtime that they really love? Or make up a new one about them on an adventure or meeting some exciting characters or visiting fascinating places? Now I'm not talking about something super-polished or edited – this exercise isn't about making you a bestselling author, even though your family and friends may like a few copies. This is about making the gift of a book that can be treasured by your kids for years to come.
If you are better at drawing than me, you won't need a professional illustrator. You could even get your kids to draw a few pictures of the characters you have written about (no need to tell them why!) and then use them in the book for an extra special touch.
The story can be as long or as short as you like, but you should note that the more pages you have, the more you will pay. Below I have provided some examples of the costs involved but we're basically talking about a few dollars (less than most toys today) as well as a bit of time and effort.
Costs
After much research into the options available, I published 'The Mystical Wood' through CreateSpace because it was easier and cheaper and whilst nobody is perfect I can recommend their services. Click here, scroll down and click on 'Prices' to find out how little this will cost you.
To give you an idea, a 24 page book (the minimum but don't forget many kids books only have a few words per page), black and white in size 5″ x 8″ will cost you nothing to upload, $3.66 to purchase your own copy and $3.59 to post within the US. So, a grand total of $7.25. Not bad for a gift that says in big letters inside the front cover 'To our son Mark, with all our love Mom and Dad'.
If you want to be a bit more extravagant, a 24 page book in full color, sized 8.5″ x 11″, will set you back nothing to upload, $6.55 to purchase your own copy and $3.59 to post within the US. Being full of generosity and cheer by really pushing out the boat has cost you the grand sum of $10.14.
Now I have no idea about your budget but I would guess that neither of these figures represents more than the sum total of what you are likely to spend this holiday season, and what a great surprise for your kids or even a loved one, perhaps a husband, wife, father, mother, fiancé etc… I think you get the picture.
I would add here that unless you approve the publication unseen (i.e. you are happy that the interior and cover files you have uploaded will be fine without seeing a proof) you will need to order a proof which even if you are happy with it, will have proof stamped on the last page. If you are happy to take the risk then go for it and approve unseen. However, if you wish to receive a proof and then order a copy after that doesn't contain the stamp then you will need to approve the proof and then pay for another copy. So your budget has doubled to $13.10 or $20.28. Not really a deal breaker is it?
There are other, more expensive postal options, which you will need to use if you leave this exercise too close to Christmas and require speedier delivery. My thought would be to start now and be in plenty of time for Christmas.
So here's where to start
Create your book. This is probably the hardest part but remember your kids are your biggest fans already so don't worry too much.
You will need to create a cover and an interior.
I would suggest using Word for the least painful layout experience. In Word you can import images and write text and lay the book out however you want.
One thing to remember is that the final version to upload must be in pdf, doc, docx or rtf format. I recommend using pdf so you may need a pdf printer but there is free software that will allow you to print to a pdf file available all over the internet. I would recommend using one downloaded from Cnet.
Don't forget to make sure that your first page is the title page and that every two pages after that will be facing pages so if you want say, pictures on the left and words on the right, then don't have a title page and then an introduction or your layout won't work.
The cover will need to be in pdf format.
Now here's the upload process
Remember nothing is final (except the ISBN number that is free by the way) until you upload your book and cover, approve your files and order your proof or copy (without seeing the proof first).
Firstly you will need a CreateSpace account but thankfully if you already have an Amazon account you can use this instead. So either log on or sign up at CreateSpace.com.
Click on 'Add New Title'. As you can see there are other things you can make but for our purposes you need to enter the title and select the paperback option. You also need to choose the guided step option as this will take you easily through the process so click on the 'Get Started' icon to the right of this option.
Title Information Page: You need to add your name as the author. There are some other options which you can explore if you wish but are not necessary for our purposes. Click on 'Save & Continue'.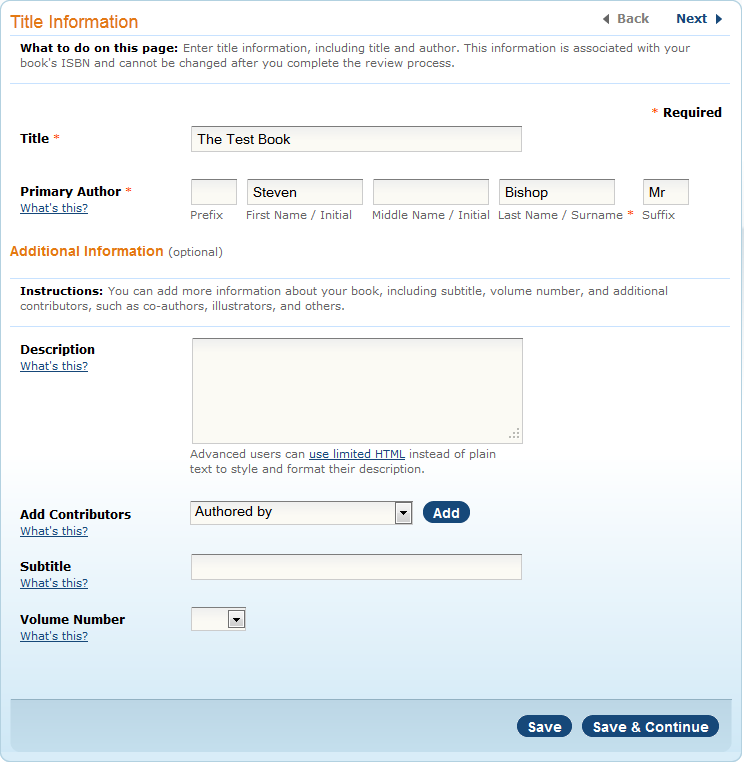 ISBN Page: Select the radio button to choose 'Free CreateSpace-Assigned ISBN' which will change the screen and provide you with your free ISBN number. Click 'Continue'.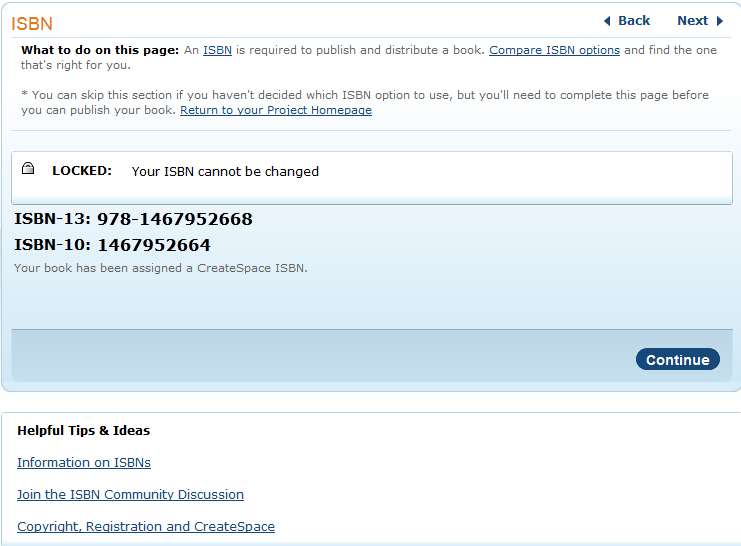 Interior Page: This is where you choose your paper and upload your interior file. Hopefully you will have these decided after reading the costs section earlier. Enter the paper you would like and upload your interior pdf file. You will see that you do have the option to use a Word (.doc) file too if you prefer. I had better results with a pdf. Your file will be uploaded – this might take a minute or two depending on your file size – and will also check your file for possible issues. When completed click on 'Save and Continue'.
Cover: Click on 'Upload a Print-Ready PDF Cover' and upload your cover file here in the same way as you did your interior. Remember this must be a pdf file. Browse to the file and click on 'Save and Continue'.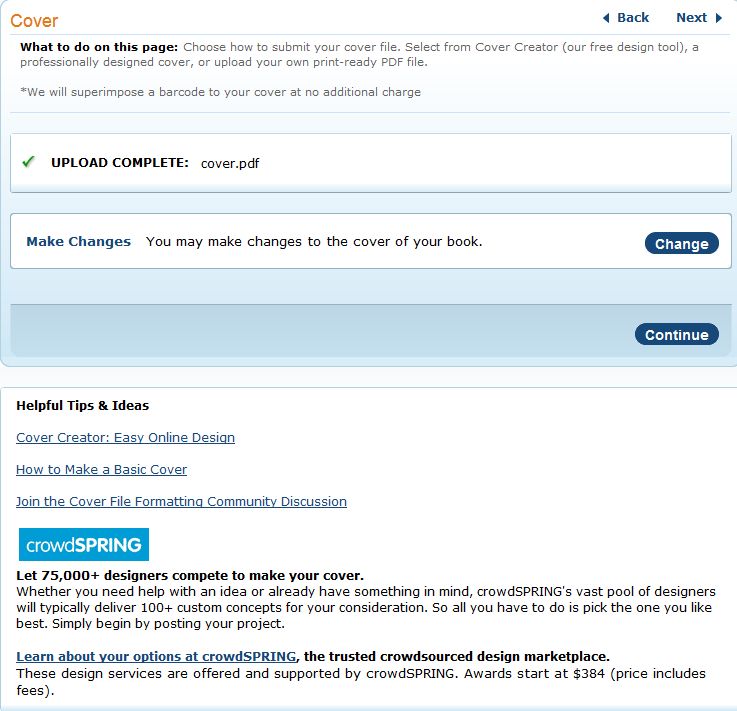 Complete Setup Page: Here you can edit any of the processes you have already performed. As I said, except for your ISBN, everything is still changeable. If you are happy you can click 'Submit Files For Review'. This is presumably just CreateSpace's chance to make sure you are not printing anything horrendous. The rest is plain sailing and self explanatory.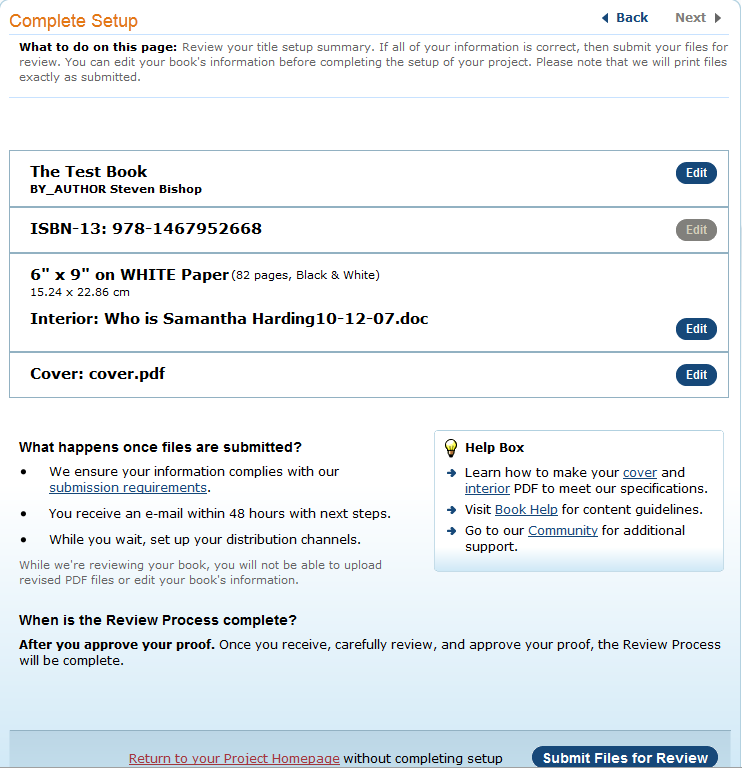 Once your files have been accepted you can go ahead and order your proof (or not by skipping the proof) and order a normal copy to put under the tree and perhaps a few more for other family members!
I would love to know how you get on. Please leave me a comment.
I'm linking up to these blog parties:
Beyond The Picket Fence, Somewhat Simple, Fireflies And Jellybeans, Delightful Order, Saved By Love Creations, Thrifty Decorating, The 36th Avenue, Between U & Me, Take It From Me, A Creative Princess, Yesterday On Tuesday, Mom On Timeout, Whipperberry, The Frugal Girls, Chic On A Shoestring Decorating, Simply Designing, Joyful Stamper, Cookie Nut, Happy Go Lucky, Shabby Nest, Happy Hour Projects, Fun To Craft, At The Picket Fence, Thirty Handmade Days, Creation Corner, Stuff And Nonsense, Naptime Crafters, The Creative Paige, Blissful And Domestic, Roca And Company, Days Of Chalk And Chocolate, Junk In Their Trunk, Tots And Me, Read Explore Learn, Living Life Intentionally, Home Is Where My Story Begins, Release Me Creations, Tatertots And Jello, Serenity You, Making The World Cuter, Sumo's Sweet Stuff, Between Naps On The Porch, The Girl Creative, The DIY Showoff, Dittle Dattle, Craft-O-Maniac
Photo credit: James Ellsworth.