Hunter – A Killer Thriller Review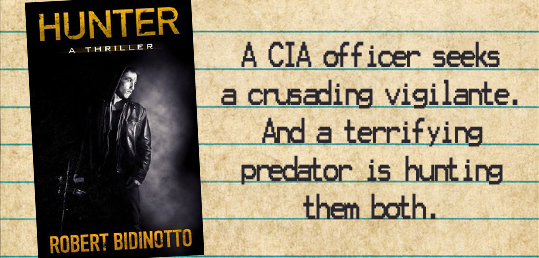 "A gripping, thought-provoking vigilante thriller"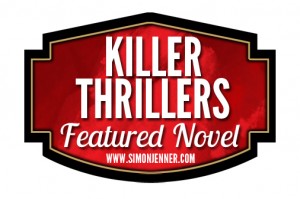 Killer Thriller Features offer you more than just another review.
Learn more about the main character, glimpse into the life of the author and enjoy a 'special feature' for thrillers I have read and personally recommend.

Two people, passionately in love. But each hides a deadly secret.
He is a crusading vigilante, on a violent quest for justice. She is tracking an unknown assassin.
Neither knows the truth about the other. And neither knows that a terrifying predator is hunting them both. . . .
Buy NOW @ Amazon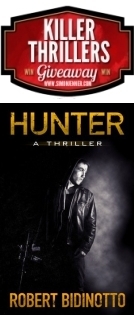 A Killer Thriller Giveaway – Now Closed
I am giving away an e-copy of Hunter to the first two lucky thriller fans who sign up to my Killer Thrillers Newsletter after the date of this post.
Congratulations to Jody and Magic on winning this Killer Thrillers giveaway.
The Killer Thrillers Newsletter is FREE and will include exclusive news, deals and giveaways on great thrillers that I personally recommend.
Just enter your email address below and click "Enter" to be in with a chance to win.
Two winners will each receive an e-copy of Hunter (valued at $3.99) as a gift via Amazon. The 'first' two winners will be determined by the time and date of subscription as shown by MailChimp.

Please welcome Dylan Hunter, the star of Hunter and vigilante extraordinaire.
Dylan,
What one thing do you wish you'd done differently during "Hunter"?
I don't accept the premise of your question, Simon. Because I don't second-guess myself. It's self-indulgent and a waste of time. You know that I'm a big fan of Sinatra. Well, it's what he said in "My Way," about regrets: "I did what I had to do."
I certainly don't regret anything I did to those criminals. Or to their enablers. Every one of them got exactly what he deserved, each in his own way. If I had the chance to do any of those things all over again, I would. Without hesitation. Without a shred of remorse.
Because when you encounter situations where bad people are doing monstrous things to good people . . . well, Simon, you can't turn a blind eye. You can't walk away.
At least, I never could.
I do have one regret, though: I regret deceiving Annie about what I was doing.
Now, it's true that we were both keeping unpleasant secrets from each other. But I won't use that as an excuse. As you know, I don't believe in excuse-making. When I fell in love with her, I should have come clean. Because she deserved to know. I should have told her everything, right then, and let the chips fall as they might. But I didn't. Our relationship was built on fraud.
It was stupid and inexcusable, because I knew better. Living a lie never works. It always blows up in your face. And it did for us. Our deceptions cost us dearly.
What one thing do you have in common with Robert?
The main thing, I suppose, would be our values. From what I know about him, we share the same basic ideas and ideals. Certainly the same passion for justice. Unlike most people, he and I are both reflective, even philosophical, about our convictions. We know exactly what we believe, and why. So I think the bond between us is both intellectual and emotional. We should remain partners for a long time to come.
But I have to confess that we're different in lots of ways, too. Don't tell him I said this, Simon, but he's a homebody and, frankly, something of a bore. Robert just doesn't get out and do much. He's not a recluse, exactly, but damned close, if you ask me. I'd go stir-crazy living the way he does. I'm far more active, more out-in-the-world, more physical. Robert claims he hits the gym several times a week, but you wouldn't know it by looking at him…Okay, I'm in my late thirties and he's in his sixties, so maybe I should cut him some slack.
Also, Robert is more of a diplomat with people. He's not as eagerly confrontational as I am. That's a good thing, I suppose. Don't get me wrong, Simon—he does stand up for himself. However, I have a shorter fuse and I don't pull punches. It would be an understatement to say that I don't suffer fools gladly. I don't suffer fools at all.


Robert,
Which is your favorite scene from "Hunter"?
Believe it or not, Simon, this is the first time I've ever thought about it. And it's a tough question to answer, because I like different scenes for different reasons.
I love the humor of the scene that introduces "Wonk," Dylan's brilliant, quirky, morbidly obese research assistant. Like most readers, I love the "flagpole scene" at that judge's home, because it's so cinematic. So is the novel's big "set piece": the chaotic hotel banquet scene. I love the entire arc of the climax—the breathless, desperate pursuit that leads to the violent showdown between Dylan and the sociopathic killer, Adrian Wulfe—because of its sustained, unrelenting pace and suspense. And for poignancy and psychological depth, I really, truly love the flashback chapter, with Dylan in the hunting cabin, remembering his childhood with his father.
But I guess I most love the last scene in the novel—where Dylan returns to that same cabin a changed man, still wrestling with and finally resolving the question of his identity and his future. I love how the answers are summed up by the very last two words of the novel. They choked me up when I wrote them. It still chokes me up when I read them.
What one thing do your fans not already know about you from your author bio, website or numerous interviews? A fascinating tidbit, a guilty pleasure, a deep dark secret, an embarrassing moment …
One thing encompasses all of the above: I love singing "the standards" and show tunes. And I have a reasonably decent voice. If I hadn't become a writer, I'd probably be a lounge singer in some resort hotel or cruise ship.
What one indie thriller (other than your own!) would you recommend and why?
You're killing me with that question, Simon, because there are many good ones, and I'm going to slight a lot of talented friends if I pick just one. So I'll give you three.
For great action and outstanding pacing, I'd nominate both David Vinjamuri's Operator and Allan Leverone's Parallax View. But for sheer ambition, plot complexity, technical realism, and amazing creativity, I'd recommend Pandora's Grave, a remarkable counter-terrorism thriller by Stephen England. Nobody reading that thriller would imagine that it was written by a young man barely in his twenties. Now he is about to release the sequel, Day of Reckoning. Mark my words: Stephen England will soon be a big name among thriller writers.
Thanks so much for allowing Dylan and me to spend a few moments with your friends, Simon.
You're very welcome. Thanks to you both for your entertaining insights (I had a good chuckle at Dylan's thoughts about you) and for the indie thriller recommendations. My 'to be read' pile is now even bigger.


If you're not yet convinced to give Hunter a try, here's what I liked about it:
The vivid characters: Dylan Hunter, the hero, is an understated yet highly trained black ops officer who vanished from active service after being betrayed by a traitor. Three years later, he reappears with a bloody and provocative agenda: to get justice for victims who have been failed by the system. He is a well organized and well trained and perfectly capable of delivering the violent justice he deems fit, but he is a loner and surprisingly romantically vulnerable when he meets Annie Woods of the CIA. Their frustrating 'shall we, shan't we' relationship is an engaging romantic addition to the book, although I was willing them to open up to each other much earlier on. Luna the cat is another charming character. Her relationship with Dylan, as effectively his best friend, was particularly engaging. Wulfe was well portrayed as the bad guy we want to hate … and we did. His chilling manipulation of Dr. Frankfurt was all too believable.
The emotive subject: Although you know Dylan is doing the 'wrong' thing, you cannot help but root for him as he takes on the criminals who have been freed to commit more crimes. There is something very satisfying about a vigilante story and the scenarios portrayed in Hunter are certainly those that would make you mad if you heard them on the news. The scariest part comes though in the note from the author when the 'fiction' ends but you find out that the novel is based around true events. Well the crimes, the victims and the workings of the legal system, not the vigilante part.
The crazy parts: I had to smirk at Dylan's eagerness to 'set the scene' for each criminal's demise, to send the perfect message to the powers that be. His antics – like hoisting a dead body up a flagpole no less – were crazy but certainly added tension.
Overall: I do enjoy a good vigilante thriller and this one did not disappoint. I actually struggled to get into the book at the start – the whole espionage angle wasn't talking to me – but as soon as Dylan Hunter came onto the scene, I was hooked. This is a thriller with strong conflicts based around provocative ideas, a healthy dose of romance, interesting characters and a pacey plot. About half way through the book I did wonder how it was all going to end. Would Dylan just get to dish out a bit of justice before getting caught? But then the possibility of a final showdown crept into the plot, the tension built from there and I could not put it down until it was all over in a satisfying crescendo.

If you would like to read about Dylan's exploits in "Hunter", buy your copy TODAY from Amazon.
Connect with Robert Bidinotto on Facebook or Twitter
Website: http://www.bidinotto.com/