Lust Knows Where You Work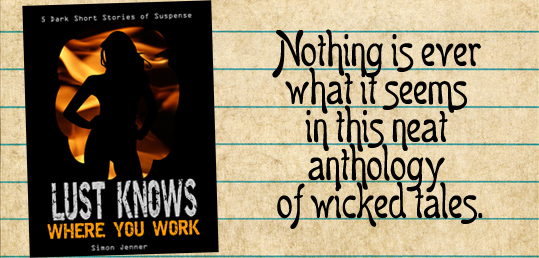 Buy Now @ Amazon
I've finished another book – Lust Knows Where You Work!
It is an anthology of five dark short stories which revolve around lust and its consequences. The stories transcend several genres and make for an eclectic mix of chilling tales. All were written with my tongue edging across my teeth and nudging slightly into my cheek. I hope that you enjoy them.
Executive Perks – Sci-fi
Who knows what the offices of the future will be like? This story joins Samuel Carter, who, after getting his promotion to the fourth floor, realises that the new working environment isn't exactly what he'd hoped for. Annoyed, he confronts his new boss, the drop-dead gorgeous, Miss Greenfly, who makes Samuel 'an amazing offer he can't refuse'. Life immediately starts looking up … or does it?
Eternally Fit – Supernatural, horror
You can't always choose who you fall in love with. Max Miller has worked hard for success, and as the owner and head fitness instructor of his own gymnasium, he is tiring of the daily grind. When a young and beautiful new member, Debbie Marshall, joins, Max finds himself wanting more out of life. Has Max found the girl of his dreams or entered a nightmare without end?
Eye Of The Beholder – Supernatural, horror
Infatuation is rarely rewarded. Jim, a successful accountant, has had his fill of women after being divorced by his younger wife. When Amanda Jones joins his team, he is powerless to resist her charms despite his colleagues finding her plain and dull. What is her secret and how can Jim break free of her influence?
Windfall – Mystery, thriller
Nothing is ever quite what it seems. Tony Wallis has hit the big time after his elderly wife dies, leaving him untold wealth. He feels that he has paid his dues by devoting the best years of his life to her. At the solicitors he meets the flirtatious Kate. Could this day get any better? What seems like the best day of his life has a few surprises in store for Tony.
For Better Or Worse – Murder, mystery
How would you pay back a cheating spouse? Andrea's plan is drastic but then she made her husband the man he is today. His betrayal is greater than most, and he deserves to pay the ultimate price. After all, the proof is irrefutable, isn't it?
Please grab a copy TODAY and let me know what you think.