Nameless – A Killer Thriller Review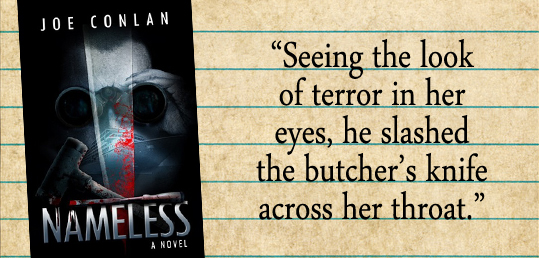 "Gruesome but captivating – highly recommended"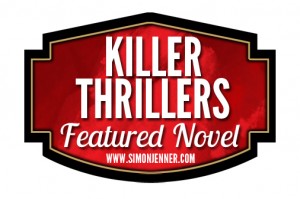 Killer Thriller Features offer you more than just another review.
Learn more about the main character, glimpse into the life of the author and enjoy a 'special feature' for thrillers I have read and personally recommend.

FBI Special Agent in Charge Daniel Falcone, framed for a brutal murder on a cruise ship, finds himself pitted against Nameless, the embodiment of evil and a frighteningly brilliant yet psychotic serial killer whose harrowing childhood abuse and neglect left him devoid of humanity and salivating for revenge.
Falcone must race against the clock to avoid losing everything and everyone he loves.
Buy NOW @ Amazon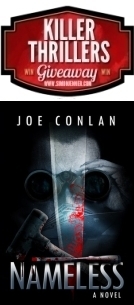 A Killer Thriller Giveaway – Now Closed
I am giving away an e-copy of Nameless to the first five lucky thriller fans who sign up to my Killer Thrillers Newsletter after the date of this post.
Congratulations to Joey, Rossana, Glen, Danielle and Jessica on winning this Killer Thrillers giveaway.
The Killer Thrillers Newsletter is FREE and will include exclusive news, deals and giveaways on great thrillers that I personally recommend.
Just enter your email address below and click "Enter" to be in with a chance to win.
Five winners will each receive an e-copy of Nameless (valued at $0.99) as a gift via Amazon. The 'first' five winners will be determined by the time and date of subscription as shown by MailChimp.

Please welcome Daniel Falcone, the FBI Agent tormented by a serial killer in Nameless.
Daniel,
If you could pick one thing that you should have done differently during "Nameless" what would it be and why?
If I could only change one thing, I would unequivocally say that I would not have slept with Annie. I firmly believe that if I had been able to control myself, my wife and her parents would still be alive today. It was the one single act that put my whole family and Annie in grave danger. Plus, it was plain wrong.
What one thing do you have in common with Joe?
I would say that we both live with a substantial amount of guilt. You know all about mine as Joe laid it out for you in enough detail. It is very different than his. I, being the better person, won't reveal Joe's story since it was told to me confidentially.

Joe,
Which is your favorite scene from "Nameless"?
Though it's probably the most perverse part of the book, or at least one of them, my favorite scenes are those involving Annie's imprisonment in the cabin. They weren't easy to write. Her suffering was horrendous. However, the end result was exactly what I was going for. I hope the readers experienced the suspense I intended for them.
What one thing do your fans not already know about you from your author bio, website or numerous interviews? A fascinating tidbit, a guilty pleasure, a deep dark secret, an embarrassing moment …
Ok, I promise you this is not a plug. I have a secret addiction to 'Plain Jane' cupcakes sold by 'Sweet by Holly' in my home town. Both the cupcake and frosting are vanilla flavored, but the absolute most delicious vanilla I have ever tasted. The cake is moist, without much sugar at all. It makes up for the explosion of sweet when you bite into the icing. It is absolute heaven, magic, out of this world and 1000 other expressions that describe exceptional. Can you tell I have one of the biggest sweet tooths in the world?
What one indie thriller (other than your own!) would you recommend and why?
I would recommend Nicholas Denmon's 'For Nothing' and its sequel, 'Buffalo Soldiers'. They are about the Mafia in an unlikely place, Buffalo, New York. I read 'For Nothing' in a matter of 2 days. I haven't had the time to get through 'Buffalo Soldiers' yet, but I'm told by several very reliable sources that it's even better than the first.


If you're not yet convinced to give Nameless a try, here's what I liked about it:
A chilling baddie: If you like thrillers with a bad guy you can despise, then Nameless is for you. He is downright disturbing and with plenty of the story told from his point of view, you follow his warped journey in a terrifyingly intimate way. When you learn more about his vile upbringing in Chapter 4, you actually feel sorry for him. His junkie mother took pleasure in making him suffer. The fact that he survived was a miracle but the man born of these unspeakable circumstances is one society wishes had died in the back of the freezing cold dirty van he called a cradle in the first months of his life. Instead he became the nastiest, most violent and perverse serial killer imaginable and one whose devious and brilliant mind make him next to unstoppable. The fact that such an upbringing did create such an astute monster is perhaps a bit of a stretch, but the character was so interesting that I was happy to roll with it.
The characters come to life: You are drawn into the book as the first few chapters contain the detailed back stories of the main characters. You learn a lot about them and what drives them from key events in their lives. As you begin to see how their paths will all intersect, the tension mounts. You have to feel for Daniel as his life goes from one disaster to the next and how one indiscretion draws him into the serial killer's twisted world.
It is an emotive book: This is not a book that you can read without feeling the pain of the characters. It will elicit emotions of terror, anger and sadness and there are plenty of parts where your pulse will be racing. One in particular – Annie's bravery and unshakable resolve to outsmart Nameless – was breath-taking.
Overall: The start of the book throws you straight into the brutal world of Nameless as well as the mystery as to how on earth FBI Agent Daniel had ended up in jail having been framed for three murders. We then jump backwards to follow the shocking story as it unfolds. It is compelling but graphic. The multitude of gross murders along the way are described in minute detail – the suffering of the victims leaves little to the imagination and will have you grimacing so beware – this is not a cozy thriller. The only minor complaints I have are with the number of mid-book spoilers that I could have lived without and with the ultimate ending (I would have preferred it to go a different way) but they did not detract from my overall enjoyment of what is a great book. It is gruesome but captivating and highly recommended.

If you would like to read about Daniel's exploits in "Nameless", buy your copy TODAY from Amazon.
Connect with Joe Conlan on Facebook or Twitter
Website: http://joeconlan.com/