Nine Lives by Tom Barber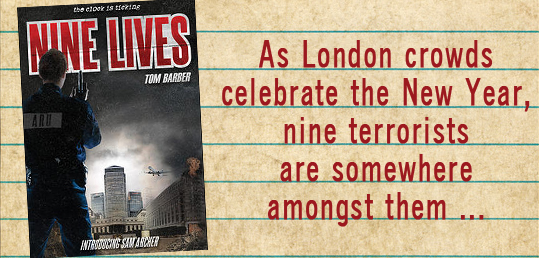 "An entertaining, fast-moving thriller"

It's New Year's Eve.
A major terrorist cell is planning a series of attacks across London.
Contact with an undercover police officer is lost and the nine terrorists vanish into thin air.
Archer is the youngest member of the Armed Response Unit, part of the team tasked to hunt them down. Keen to prove himself and justify his spot on the task force, he faces the most dangerous night of his life.
He desperately searches the London crowds for the nine terrorists somewhere amongst them only to realise that the enemy's plans are far bigger and more terrifying than anyone could have imagined.
Currently FREE @ Amazon

With plenty of action, there is never a dull moment in Nine Lives. The sheer scale of the devastation the terrorists plan on unleashing is stomach churning and ensures you are rooting for the ARU team all the way as they chase down clues to apprehend the terrorists one after the other.
The well-woven plot builds the tension steadily as the clock ticks relentlessly towards midnight on New Year's Eve. While the story is action packed, it is not overwhelming and there are a few key twists that I did not see coming. Some of the terrorist plans are pretty crazy, like rocket attacks on planes and the release of nerve gas, and the ARU catch a few convenient breaks along the way, but it was all compelling and I kept wanting to pick the book up to finish it.
There are a lot of characters but you can relate to them. In fact, their situations make you wonder whether you'd put your own life on the line to search for or defuse a bomb in a seemingly impossible attempt to stop the baddies. The terrorists get plenty of pages which adds an extra level to the story, and the tension between the two sets of bad guys offers an interesting and unusual plot line. I particularly enjoyed Henry's character, the vicious leader, as he was so dislikeable.
Overall Nine Lives is a thrilling, entertaining, fast-moving read with a satisfying ending.

Wiping sleep from his eyes, the man went to stand up. He couldn't. He looked down. His feet had been looped through the holes of a concrete cinder block. The gaps in the rectangle had been filled with cement, packed tight against his ankles and lower calves. He tried to wiggle his toes, but they were jammed solid.
***
A dead body was hanging limp, hand-cuffed to the shower rail, like an animal in an abattoir. The guy was naked. Pieces of him lay all over the tiled floor, the white walls red and spattered with his blood and whatever else.
***
… the man in the coat started to mutter. Something memorised. A creed. A prayer. He pulled one of his hands free from his pocket. He was holding a switch. On the pitch, one of the midfield players hit a perfect through-ball. … the crowd gasped, holding their breath like the split-second before a crescendo. The man in the coat did the same. He closed his eyes. He pressed the button.

If you would like to read about Archer's trials and tribulations in "Nine Lives", grab your FREE copy TODAY from Amazon.

Learn a little more about the author and his book with these snippets of previously unknown trivia that Tom has been kind enough to share!
About you
I'm a mid-twenties full-time writer who is taking full advantage of self-publishing and having the time of his life doing it! I'm obsessed with action thrillers like Die Hard, The Terminator and Aliens, and want to give my audience the same level of adrenaline when they read one of my books. No long page-turning descriptions, no tedious explanations, just pure character and action.
In terms of some trivia; my mother was in a James Bond film, I lived in 5 different continents by the time I was 22 and I spent almost four months in New York living on $2.29 a day. I would love to write 21 Sam Archer books, see them make the big screen and produce my sci-fi Alien-inspired novella Condition Black as an independent film; right now I'm taking it all a day at a time and enjoying the ride!
About the book
Nine Lives originally started out as a 5-part teleplay that I sent to the BBC, who liked it but weren't ready to take the plunge on it seeing as I was a young guy and completely unknown. I reworked it into a novel, added a DEA and drug cartel angle and the rest is history! I always thought suicide-bombing was both extremely relevant and also an amazing tool of suspense; I loved writing the book and it set the tone for a series I'm extremely proud of.
In Nine Lives, I wanted a hero who was young, inexperienced and then thrown into the most dangerous day of his life which was where Sam Archer came from. At the time of writing, I was desperate to be given an opportunity to show what I could do and that matches Archer's aspirations in the book. Needless to say, we both got our shot and are both making the most of it!

Connect with Tom Barber on Twitter or via his Website
Nine Lives stats:
Amazon.com rating: 4.5 out of 5 stars from 17 reviews
Goodreads rating: 4.28 out of 5 stars from 60 ratings
Price: $0.00
Pages: 384
(Correct at the time of writing.)