Meet Adam Drake – Hero Of The Assassin's List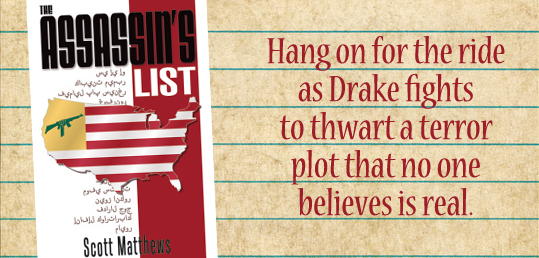 "A hard to put down action thriller"
Buy Now @ Amazon
For a full review of the book, please scroll down. In the meantime, please welcome Adam Drake, the tough, capable and likeable hero in The Assassin's List.
Although your exploits with Martin Research and ISIS may have been a rather extreme way of going about it, did they help you find a purpose again after your wife died?
It took awhile for me to realize it, but yes, that whole episode got me back on track. I was depressed, drinking too much and ignoring my law practice. I'm sure that's why my father-in-law, Senator Hazelton, asked me to help Richard Martin when his secretary was murdered. I needed to stop feeling sorry for myself and he reminded me there were others with problems bigger than mine.

I immediately grew attached to Lancer – hopefully he will feature in more of your 'troubleshooting' roles. I have a 13 year old German Shepherd who I wish I'd trained a bit more. How much training did Lancer need? Why did you not take him out in the field with you? He seems like a great sidekick.
Lancer's a great sidekick. I got Lancer when he was a month old so my wife had protection at night on our farm when I had to work late. The breeder and trainer kept him for the first six months and provided his basic obedience training. As a condition of Lancer's sale, I had to commit to weekly Schutzhund, or 'protection dog' training with the trainer. That training lasted for a year. But Schutzhund is also a sport that Lancer competes in, so we still practice his skills in tracking, obedience and protection.
There are two reasons I don't take Lancer out in the field with me. He's a big German Shepherd. He weighs 110 pounds. The other reason is he's too big to ride in either the passenger or rear seat in my old Porsche, and that's the way I'd have to take him with me.
It must have been a shock when Lancer woke you with his threat signal. Do you think you were lucky to get out safely from all the action that followed or was it all down to your training taking over?
I'm a light sleeper, but it was a bit of a shock because Lancer was telling me there was a real threat outside, not just a deer or bear wandering through my old vineyard too close to the house. Whether it was luck or training that got us through safely, I'd have to say a little of both. Lancer's training allowed me to get out of the house before the shooting started. My time as a Delta Force operator prepared me to take care of the three jihadists. But it was lucky for me that my attackers weren't very well trained. If they had been three of your Special Air Service operators, I probably wouldn't have been so lucky.
What training do you do to keep in shape, now more than ever?
I think I've stayed in pretty good shape since I left the army. I run most every day with Lancer, and I do some stretching and body weight exercises like pushups, squat jumps and reverse crunches. But in the last month, with all the excitement I've been having, I've added a krav maga workout that incorporates shadow boxing with striking, kicking and pivoting. I let my fighting skills get a little rusty and, in hindsight, that was a mistake.
How frustrating was it that the Secret Service and Homeland Security wouldn't investigate the threat you told them about?
It was incredibly frustrating. There's an arrogance in government that perpetuates the conviction that it's omnipotent and omniscient. It drives me crazy, but I know it's not about to change. You just have to find a way around the obstacle.
Mike must be some friend to drop everything and join you for who knows what just like that. What was going through your mind when he told you there were Dobermans on your heel at the ISIS ranch?
Mike's the brother I didn't have. When we decided to leave the army, we promised we'd always have each others' back and we have. I'd drop whatever I was doing to go help him, just like he did for me when I called him. Besides, I think he missed the action. The Doberman thing was just his way of having a little fun at my expense. A Taliban we went after in Afghanistan had Dobermans and Mike couldn't shoot them when they attacked me because it would have alerted the guards we were there. I had some nasty wounds on my left arm before I silenced them with my knife. I knew Mike would take care of the Dobermans at the ranch. He just waited a little too long to shoot them in my opinion.
One thing I wondered, why didn't you follow up on the names on the Umatilla Depot uniforms you found in the bunker?
Good question. I probably should have tried to find out if they really were security guards at the depot, but I'm not sure who I could have asked without admitting I had broken into the bunker. ISIS did legitimately train security personnel, so it was possible they were real security guards who just happened to be Muslims.
How did you smooth things over with Margo after the fact? What does she think of your new troubleshooter role?
I haven't smoothed things over yet with Margo. I'm spending more time in my office and getting caught up on my work, but things are still a little frosty. She didn't like it that I was playing cowboys and Indians, in her words, and putting her at risk in the process. Because of that, I haven't really told her completely everything about my agreement to troubleshoot for the Secretary of Homeland Security from time to time.
How are you getting on with tracking down the man responsible for the attacks on you and your family?
I just got a call from Liz Strobel, my liaison with Homeland Security. A DEA agent in Cancun, Mexico spotted his bodyguard. I'm leaving tonight to go there. I'll let you know if we get him.
Thanks for the interview, Simon. I enjoyed meeting you. Good luck with your new book, Ethan Justice 2. I look forward to reading it when I get back.
Thanks, Adam. Please let us know how it goes in Cancun.
If you would like to follow Adam Drake's exploits in "The Assassin's List" or the sequel, "An Oath To Defend", to be released very soon, you can read the first 10% for FREE via the "Look Inside" feature or BUY NOW on Amazon.
The Assassin's List Review
The plot
Adam Drake, an attorney and former Delta Force operative, starts looking into a murder as a favor to his father-in-law but ends up trying to thwart a terror plot being planned by homegrown assassins. Even after an attempt on his life, he struggles to convince the powers that be of the imminent threat to senior government officials so is forced to take matters into his own hands.
The hero
Drake is very down to earth and one of the easiest to like heroes I have come across. He begins the story miserable and depressed after the death of his wife but soon gets back on track when his investigations into a murder give rise to more questions than answers. He is the type of person you can trust and would want on your side. He is not afraid of doing what needs to be done, legal or not, to get the answers he needs to stop the bad guys. He is tough and capable and you will be rooting for him all the way – a true unsung hero to ensure people can sleep soundly at night, unaware of the threats that lurk closer than you might think.
The cast of supporting characters
Lancer – the 5 year old German Shepherd trained as a protection dog.
"He was the perfect home security system. Pity the poor intruder who mistook his calm manner and underestimated his violent capabilities."
Lancer has really been "man's best friend" and a companion to Drake since his wife died. He has Drake's back when the time comes – it's just a shame he wasn't in the story more.
Mike – Drake's buddy from his Delta Force days now heads up a private security firm. He drops everything to help Drake out of his bind and brings along the state of the art equipment they need for their adventures.
Kaamil – the chilling terrorist. How can someone with such a deadly hatred appear so 'normal' and hide so easily in plain sight?
The 'could not put it down' parts
The whole book was a page turner but I was particularly gripped by the scene when Lancer woke Drake with his threat signal. This was the first of a nice smattering of tense scenes to follow.
The craziest part
No crazies here – just an engrossing plot to keep you reading.
Where I was left wanting more
A little romance perhaps – will there be any in the sequel I wonder?
I'd love to see more of Lancer but as Drake says, he's too big to ride in the Porsche!
Why it was good
It was a fantastic first novel by Scott Matthews. I'm waiting with baited breath for the sequel, "An Oath To Defend", which is due out in March 2013. The plot is quick to draw you in and you are soon immersed in the chilling world of homegrown terrorist plots and training facilities. You live the frustrations caused by the security services' disinterest along with Drake and are left hoping that there is a real life Drake out there somewhere as the scenarios seem far too real for comfort. The characters are well developed and the ending is satisfying. It is a well written and hard to put down action thriller.
Buy Now @ Amazon
Connect with Scott Matthews on Twitter
Website: http://scottmatthewsblog.com/