The Geronimo Breach – A Killer Thriller Review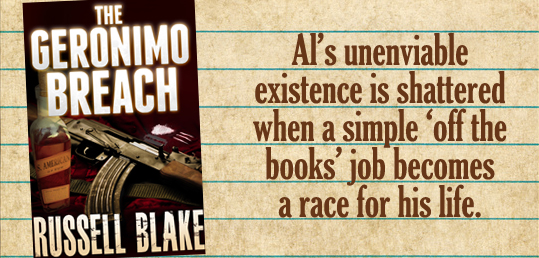 "The best anti-hero of all time"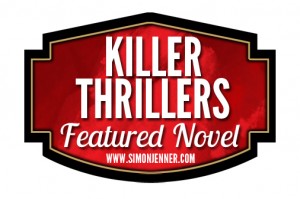 Killer Thriller Features offer you more than just another review.
Learn more about the main character, glimpse into the life of the author and enjoy a 'special feature' for thrillers I have read and personally recommend.

Al's unenviable existence is shattered when a simple 'off the books' job becomes a race for his life as the body count mounts and his spastic colon convulses.
A life of junk food, booze and heaving smoking has not been kind to our cowardly protagonist but strangely it's a life he wants to protect.
The wake-up call from Hell pits him against his own demons and a ton of darker than dark villains who seek to take him out. Life, if he survives, will never be the same again.
Buy NOW @ Amazon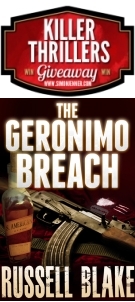 A Killer Thriller Giveaway – Now Closed
I am giving away an e-copy of The Geronimo Breach to two lucky thriller fans (chosen at random – UK and US only) who sign up to my Killer Thrillers Newsletter between the date of this post and the closing date of June 14, 2013.
Congratulations to Celia and Zoe on winning this Killer Thrillers giveaway.
The Killer Thrillers Newsletter is FREE and will include exclusive news, deals and giveaways on great thrillers that I personally recommend.
Just enter your email address below and click "Enter" to be in with a chance to win.
Two winners will each receive an e-copy of The Geronimo Breach (valued at $4.49) as a gift via Amazon. Read the complete prize draw terms and conditions at: http://simonjenner.com/prize-draw-terms-conditions/.

Albert Ross is the malingering misanthrope from The Geronimo Breach by Russell Blake.
Al,
What one thing do you wish you'd taken with you on your trip with Ernesto?
Night Vision Goggles. I suspect my odds of making it across the gap would have greatly improved if I'd been able to negotiate it at night.
What one thing do you have in common with Russell?
Living on the beach in a Latin American country. Beyond that, we're nothing alike – I'm a joyful, generous optimist, and Russell's a mean-spirited, sadistic curmudgeon. Just look at the crap he put me through in Geronimo. What right-thinking person would do that kind of crap to his creation?

Russell,
How do you think Al would fare if he ever came across Jet and they had to work together?
Boy, the two characters are so uniquely different. I mean, Jet is hyper-competent and fit, and Al is…well, not. I think it would be something like Laurel and Hardy, or James Bond working with Al Bundy from Married with Children. Just not a great fit.
What one thing do your fans not already know about you from your author bio, website or numerous interviews? A fascinating tidbit, a guilty pleasure, a deep dark secret, an embarrassing moment …
Well, given that my tequila consumption and nude ice dancing are well documented, I'll have to go deep for this. Hmm. I'd have to say that this qualifies as both an embarrassing moment and a dark secret. At one point, I started writing a contemporary romance trilogy under a pen name, but then hung it up when I realized I'd rather be staked over an ant hill than continue it. I won't reveal anything more, because I might go back to it at some point, but it's the last thing you'd expect from me.
What one indie thriller (other than your own!) would you recommend and why?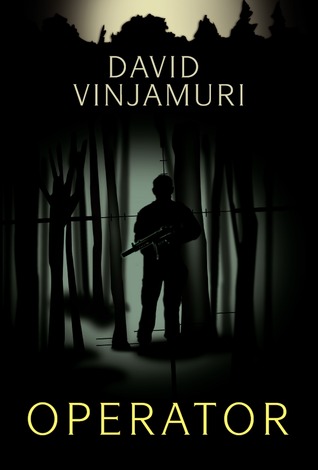 Boy, only one? I'd have to say Operator, by David Vinjamuri. It's extremely well written, sucks you in and moves you along at breakneck speed, and has a fascinating combination of tradecraft and technical detail that is right up my alley.
This year, that's probably the best thriller I've read, by an indie or trad pub – I don't make any distinction any more. A book's a book, and it either hits a high quality point, or doesn't, regardless of who the publisher is. Fans of my work can't go wrong with Operator. Also, Steven Konkoly's Black Flagged series bears mentioning as another racing read in the genre.



If you're not yet convinced to give The Geronimo Breach a try, here's what I liked about it:
The fabulous anti-hero: We are introduced to the protagonist after his regular 'ten-too-many' the night before – he chokes down vomit, has pizza stuck to his head, searches through trash to find a half-smoked cigarette, has no idea what day it is yet amazingly is still not keen to make the rash decision to stop overdoing it. Meet Al, "proud member of the U.S. Diplomatic Corps in shit-swamp Panama, Central America, at your service." Russell Blake wanted to write a hero who was so despicable that no one could like him. The trouble is most of Al's antics had me smirking or chuckling – the possibility of a nude nap in his office, his opinions of the locals and their cuisine, his convulsing colon and toilet ablutions in front of an inquisitive donkey – he was the perfect anti-hero who I couldn't help rooting for.
The couldn't put it down jungle adventure: "Some days just started off lousy, and then went downhill from there". This was Al's lousy day. To maintain his gambling, smoking and drinking, Al makes cash on the side as a diplomatic escort to shady characters wanting to leave Panama. But his latest 'client', Ernesto, has powerful people after him. They want something he 'took' as severance pay and will stop at nothing to get it back. Soon after Al meets Ernesto, the action starts with a full-on shoot out. They escape only to be met by more obstacles at every turn. With pursuers behind them and one of the most dangerous jungles in the world in front of them, Al makes a journey that will change his life forever, if he survives. From what we'd learned about Al in the opening chapter, I half expected him to just sit down and give up at this point, but he didn't – his survival instinct cut in and he went on a journey both physically and mentally. Finding out whether Al had any redeeming qualities was an adventure in itself.
The craziest part: Al finds himself relying on a donkey as his chaperone through the treacherous jungle. With Al's limited abilities, I suppose it was as good a call as any and the unlikely pairing do offer some endearing respite from the political intrigue and unrelenting adventure. The donkey was probably the best friend Al had had in a long time.
Overall: There are so many great aspects to this book, it is hard to know where to begin. I've already covered Al and the jungle adventure so let's check in with the other supporting characters – Ernesto, the poor cook who'd been shafted by his employer. One small act to get his own back brings down an almighty shit storm and finds him lumbered with Al as his savior. Sam on the other hand, the top CIA man in Panama, has few redeeming qualities, but you still end up feeling sorry for him too when the boss from Hell turns up and takes over. Moving on, there is the vivid imagery, you can almost touch the jungle, and the sarcastic humor, my favorite type – eg: "Thank you, universe", as Al knocks his toothbrush into the 'noxious toilet'. Then comes the intricate weaving of the plot and you get to see how each character's story fits together. And we haven't even covered the whole political conspiracy based on well-known news events which is so plausible it makes you wonder 'were they telling the truth?'. Grab a copy today – this book is not to be missed.

If you would like to read about Al in "The Geronimo Breach", buy your copy TODAY from Amazon.
Connect with Russell Blake on Facebook or Twitter
Website: http://russellblake.com/