Unauthorized Access – A Killer Thriller Review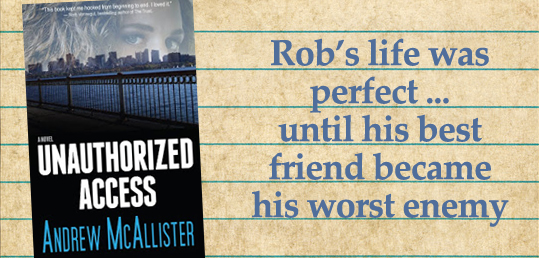 "An emotionally intense thriller"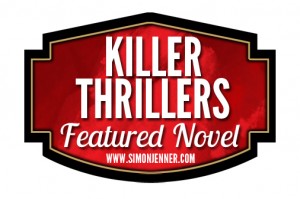 Killer Thriller Features offer you more than just another review.
Learn more about the main character, glimpse into the life of the author and enjoy a 'special feature' for thrillers I have read and personally recommend.

Rob Donovan is a young computer programmer called in to help thwart the first successful cyber-attack on an American bank where thousands of account records are scrambled.
The bank's survival is on the line as word spreads to customers but it is not long before Rob's survival is also on the line. His perfect life comes crashing down when the FBI have plenty of evidence to charge him with the attack.
Facing prison time and the loss of his fiancée, Rob's only chance of reclaiming his life lies in cutting through a web of mistrust and betrayal to uncover the startling truth behind the attack.
Buy NOW @ Amazon


A key scene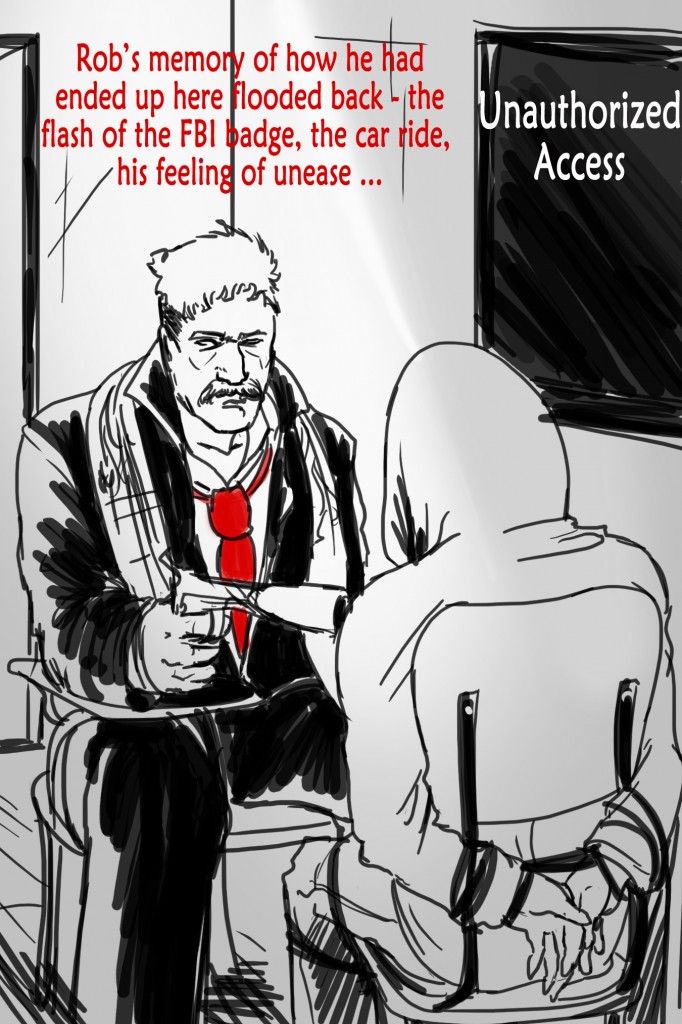 Rob Donovan is the victim you can't help but root for in Unauthorized Access by Andrew McAllister.
Rob,
What one thing do you wish you'd done differently during Unauthorized Access?
I've always been a trusting person. During this ordeal I trusted one of my best friends not to stab me in the back. That turned out to be a mistake, but still I'm not sure I'd want to change that. I don't want to be cynical for the rest of my life, and you should be able to trust your friends. On the other hand, I also trusted a stranger who claimed to be an FBI agent. That led to me spending an incredibly painful day, which I would just as soon have skipped if I were given the choice. So I wish I'd verified who this person was before trusting them.
What one thing do you have in common with Andrew?
The one thing I have in common with Andrew is that we both work in the Information Technology profession. And we like to exercise. IT and exercise. Fitness and computer programming. Our two commonalities are IT, exercise, and we're married to wonderful women with naturally curly hair. Our three common traits are mad computer skills, working out, dumb luck in landing an amazing wife … and unfortunate attempts at humor. Our *four* … no … Amongst our commonalities are such elements as IT, exercise … no, wait … can I start over?

Andrew,
Which is your favorite scene from Unauthorized Access?
To be honest, it's difficult to choose just one. If you're going to pin me down, though, I think I'll go with one of the scenes told from the point of view of Rob Donovan, the main character. In this scene Rob is being interrogated in the middle of the night by the FBI. The agents threaten him with the prospect of prison time, which seems ludicrous to Rob, since he knows he is innocent. The agents persist, however, and finally Rob comes to what for him is an astounding revelation – his innocence doesn't matter. The evidence is too strong. He is in deep, deep trouble.
That nightmarish moment of clarity is chilling to me as a reader. I can only imagine what it must be like to have your entire future at risk, and through no fault of your own. The disorientation and fear must be absolute, and it sets up the action for the rest of the book.
What one thing do your fans not already know about you from your author bio or website? A fascinating tidbit, a guilty pleasure, a deep dark secret, an embarrassing moment …
How about a tidbit? I once played basketball against an NBA player. I was living in San Antonio at the time, and I was a member of a gym where some of the strongest players in town liked to work out during the off season. One night Antonio Daniels was taking part in our pick-up games. At the time he was a member of the Washington Wizards. We played ten-minute games, where the winning team stayed for the next game. Not surprisingly, Antonio had a strong team and they played all evening, continuously beating whoever happened to be the five players signed up for the next scrimmage. When my name rotated once again to the top of the list, nobody on my team wanted to guard Antonio (I wonder why), so I agreed to guard him.
"Guard" is kind of a strong word, actually. Perhaps it's more accurate to say I was the designated victim.
Apparently Antonio's team was a bit bored after playing so many games, and my ragtag bunch of misfits was fired up, so with 30 seconds left on the clock the game was tied at five baskets apiece. Antonio was having none of this. He got the ball from his teammates, waved them all to the opposite side of the court, isolated himself against me, and started dribbling out the clock. He was obviously letting the clock run down so he could score on me at the last moment and win the game.
What a feeling. You have to understand there were 60 guys lined up around the edge of the gym watching. I had about 20 seconds to stand there and contemplate the annihilation to come. I'm a tall guy, so Antonio and I are about the same size. The similarities end there, though. In a crowd of ultra-strong players like that, I like to tell people that I might not be able to jump … but I *am* slow.
The result, as it turned out, was predictable. Luckily the experience hasn't had any long-term effect on me.
I mean, not much anyway. No, seriously.
What one indie thriller (other than your own!) would you recommend and why?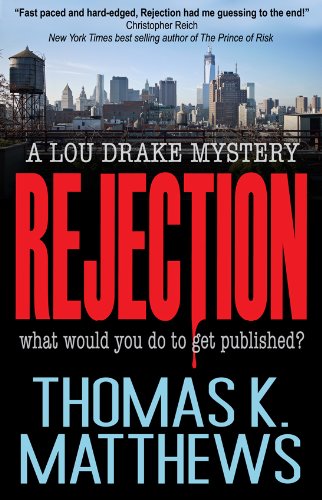 "Rejection" by Thomas K. Matthews. Tom is an Indie author from San Diego. Rejection is his thrilling and rather macabre take on how Indie authors deal with the frustration and pain of being rejected by the traditional publishing industry. The book includes a wonderful cast of flawed and compelling characters, led by a lost soul of a policeman named Lou Drake. As the story begins, this burned out ex-detective is going through the motions to make it to his retirement. Drake writes in his spare time, though, so he has some knowledge of how the publishing industry works. That's enough to draw him into a serial murder investigation involving a string of dead literary agents. As events unfold, we gradually learn the back story that led to Drake's downfall. What follows is a satisfying tale of redemption with some surprising twists at the end. Mystery lovers will enjoy Rejection as a police procedural, and it is a must read for any author who has ever found a self-addressed stamped envelope in their mailbox containing a form rejection letter from an agent.



If you're not yet convinced to give Unauthorized Access a try, here's what I liked about it:
The antagonist's journey: This is an unusual thriller in that the bad guy, Tim, is not your run of the mill evil type. Tim's unrequited love gets the better of him and he chooses a path, that although certainly did not have Rob's best interests at heart, was never intended to go as far as it did. His journey is an interesting one to follow – he sets the roller coaster in motion but feels guilty when it runs out of control and threatens to send his 'friend' to jail. He's thrilled to be able to worm his way into Lesley's life when she is vulnerable, but he struggles to enjoy it fully as he is so stressed. He enjoys a moment believing that he will be free of Rob but is soon double crossed and so not being able to take any more, his overwhelming rage erupts.
The uncomfortable closeness to what could all too easily become real for anyone: I'm sure there is the occasional fleeting doubt in everyone's mind as they log into their internet banking account that the screen will not show what it should, as it is not difficult to imagine cyber-terrorists holding a bank hostage. Couple that unease with the thought of being wrongly accused of a crime where all the evidence points to you, and you have a thriller that makes you uncomfortably enthralled as you are forced to read on to find out what happens to Rob. The descriptions of the breakfast-like substances in jail, the discomfort from the thin foam mattress on a steel-framed bed, the feeling of being in an aquarium when talking through a Plexiglas barrier, the possibility of not having the 'mix up' sorted out straight away, all paint a vivid picture of the torment Rob went through. At least his Dad believed in him.
The "No, don't do that" scene: You want to shout at Rob when he goes with Landry thinking he is with the FBI. It is easy to understand that he is fooled by the promise of hearing about a break in the case but the feeling of unease soon sets in – albeit too late. The subsequent interrogation scenes were unrelenting.
Overall: Unauthorized Access takes you on an action-packed ride of tension and emotions. It is told in such a way that you could really put yourself in Rob's shoes – you were helpless and had to read on to see what happened. The plot was intense and well-paced. It had a computer-based premise, but it was not full of jargon. Instead it focused on relationships between its well-defined characters. It was emotionally intense with Tim's jealousy, Lesley's doubt, Rob's betrayal and hopelessness, Kirsten's insights, Landry's single-mindedness and Stan's selfishness. The thrills were in the chase – just how does Rob get his life back? Buy the book to find out!

If you would like to read about Rob and Tim in "Unauthorized Access", buy your copy TODAY from Amazon.
Connect with Andrew McAllister on Facebook or Twitter
Website: http://andrewmcallisterauthor.com/
***
If you enjoyed this 'Killer Thriller Feature', sign up for the Killer Thrillers Newsletter (it's FREE) to hear about exclusive news, deals and giveaways on these great thrillers.
Just enter your email address below and click "Killer Thrillers Sign Up" to, well, sign up!