Vigilante – A Killer Thriller Review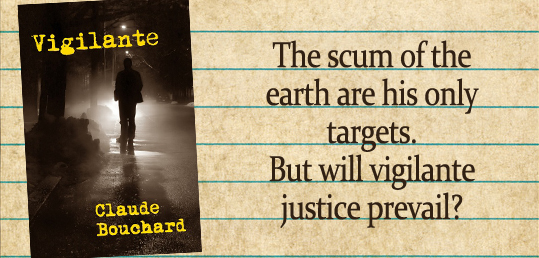 "An enthralling vigilante thriller"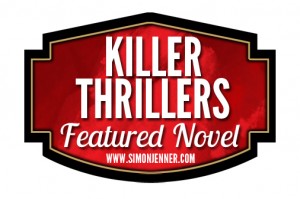 Killer Thriller Features offer you more than just another review.
Learn more about the main character, glimpse into the life of the author and enjoy a 'special feature' for thrillers I have read and personally recommend.

A serial killer is on the loose in Montreal but his sights are only set on criminals.
Faced with a rapidly increasing body count, the homicide task force calls in a computer security firm to help trace an email from the vigilante himself, and the case begins to break.
But whose justice will prevail: theirs or the vigilante's?
Buy NOW @ Amazon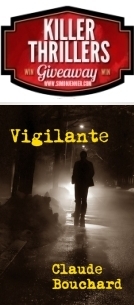 A Killer Thriller Giveaway – Now Closed
I am giving away an e-copy of Vigilante to the first three lucky thriller fans who sign up to my Killer Thrillers Newsletter after the date of this post.
Congratulations to Marilyn, Ben and Lisa on winning this Killer Thrillers giveaway.
The Killer Thrillers Newsletter is FREE and will include exclusive news, deals and giveaways on great thrillers that I personally recommend.
Just enter your email address below and click "Enter" to be in with a chance to win.
Three winners will each receive an e-copy of Vigilante (valued at $1.99) as a gift via Amazon or Smashwords. The 'first' three winners will be determined by the time and date of subscription as shown by MailChimp.

Please welcome the Vigilante – I can't name him or that would completely spoil the book. Read it to find out exactly who he is.
Vigilante,
What one thing do you wish you'd done differently over the course of the story?
I have to be honest with you. Though I come across as a brilliant executioner in the thriller aptly named after me, the fact is, Claude is the one who did all the planning and, I must say, he did a fine job indeed. I simply followed his instructions and look where it's led me. I'm healthy, wealthy, doing a job I love and have been enjoying life with my wonderful wife through seven novels with an eighth on the way. I wouldn't have risked doing anything differently.
What one thing do you have in common with Claude?
If I told you that, uh, we would have to kill you. Seriously, we're both kind of cute.

Claude,
Which is your favorite scene in the book?
That's a difficult question to answer because, in my opinion, there are a number of great scenes in the book. One of several is when the vigilante pays a visit to Peter Myers, the drunk, abusive landlord who seriously injured one of his elderly tenants. It's a fine example of good old vigilante fun.
What one thing do your fans not already know about you from your author bio, website or numerous interviews? A fascinating tidbit, a guilty pleasure, a deep dark secret, an embarrassing moment …
The first thing which comes to mind would be in the "fascinating tidbit" category. Last May, my wife and I traveled to Vietnam to vacation with Australian author friend, Luke Romyn along with his wife and her sister. Our itinerary included a couple of days in Sapa near the Chinese border. On our first day, we were on a mountain trek, up about 3,500 feet, when I suddenly slipped on a muddy trail, completely lost my footing and, you guessed it, fell off the mountain. Luke was close by and got a hold on me to stop my fall. Unfortunately, he fell off the mountain too. As I said, fascinating…
Simon: Oops, that could have been nasty. Good to see you made it back in one piece.
What one indie thriller (other than your own!) would you recommend and why?
I'll purposely totally misunderstand the question here and suggest that Luke Romyn, Gary Ponzo, Russell Blake and R.S. Guthrie are but four excellent thriller writers I've come to know and read and there are others. As to why I recommend these gents? They take their writing to heart and put together well thought out, professionally presented and highly polished works of pure entertainment.


If you're not yet convinced to give Vigilante a try, here's what I liked about it:
It is packed with mystery: It is more than a vigilante thriller – it is a mystery thriller as the reader, along with the police, need to work out who the vigilante is. The book introduces a number of characters and points towards one in particular as the main suspect. But as the book moves on, the doubts creep in until you are going back and forth as you struggle to nail down the culprit. Although I had my suspicions, I wasn't 100% sure who it was until the very last sentence.
The key parts: There were a few crazy parts where I wanted to shout, 'No, what are you doing that for?', such as when the vigilante went to visit a witness to see if she would be talking to the police, and then again when this witness decided to give information to the police. How could she? The part where she was going to meet the presumed vigilante was particularly tense. I didn't want him to be found out quite so soon, especially by someone who owed him her life. These crazy parts actually left me wanting a bit more at the end, such as what was in the envelope that convinced her to talk? I have come up with my own explanations but some confirmation at the end of the book would have been nice. However, from the point when I realised that the identity of the vigilante was actually unknown, I could not put the book down. I had to find out which of my suspects was actually 'the one'.
The pace: I particularly enjoyed the pacing of the story. The vigilante killings were interspersed with how the case was moving forward, and back story about the main characters and the victims was dropped in as needed. The information built well, adding just what you needed to know when you needed to know it.
Overall: While I normally like vigilante thrillers that focus on the 'vigilante' himself, getting inside his head where you can root for him even though you know he is doing the wrong thing, this was different. This book focuses more on the investigation into who the vigilante is than the killings themselves. Sure, the vigilante murders were there, but the slow build-up of tension as you got closer to finding out the identity of the vigilante was enthralling. There are plenty of red herrings thrown in along the way as well as intriguing layers to the plot (such as why one character is being framed). By the time the last vigilante killing came around, I'd completely forgotten all about the exciting prologue that drew me in in the first place, but it was the perfect reminder of the vigilante's background. Overall 'Vigilante' was a cleverly woven tale with plenty of layers, suspense and intrigue that kept me reading into the early hours.

If you would like to read about the Vigilante's exploits, buy your copy TODAY from Amazon.
Connect with Claude Bouchard on Facebook or Twitter
Website: http://www.claudebouchardbooks.com/