Baby Snatchers by Bo Brennan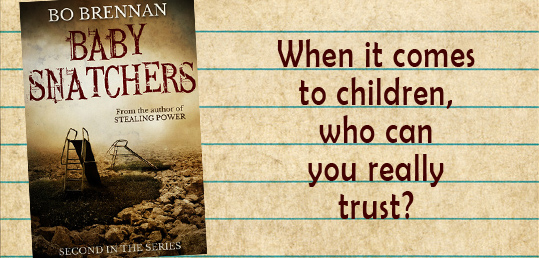 "A dark & disturbing hard-to-put-down thriller"

A mother is sectioned for claiming her new born baby was stolen by a leading paediatrician and young girls are disappearing from Local Authority care.
Plunged into the secretive world of the Family Court system amid claims of abduction, human trafficking, and black market baby rackets, Detectives Colt and Kane set out to find the truth.
But some will kill to protect their secrets and when it comes to children, who can you really trust?
Buy NOW @ Amazon

I thoroughly enjoyed Bo Brennan's first thriller, Stealing Power. Thankfully the wait for more of Detectives Colt and Kane is finally over with the recently released Baby Snatchers sequel, and what a great book it is – it was even better than the first (and it does read as a stand-alone story).
India Kane is the spirited detective you hope would be fighting your corner if injustice crossed your path. She has a sharp tongue, rarely follows the rules and takes no prisoners. Her unusual but intriguing relationship with DCI Colt has you wishing she would just let him in and be done with it. But the author does a fantastic job of developing their characters just enough for you to feel you know them more than in the first book, but not so much that you can't wait for the next installment.
The story of Baby Snatchers is scary from a 'my god this could be real' point of view. It weaves a complex web of intrigue as children in care disappear. India and Colt are both working separate elements of what turns out to be the same case. But with the criminals being respected members of the old boys' brigade, you wonder how on earth they are going to get justice for the victims.
The intrigue builds right from the start when you don't know what's going on but you're hooked nonetheless. With each passing page, the tension mounts and you are hoping against hope that the Detectives can pull off a miracle.
The link to India's sister, the teacher of one of the girls that disappears, adds an interesting family dynamic to the plot. Numerous character threads interlace the story and the author does a good job of keeping you wondering whether some of them are actually good or bad guys.
This is a truly hard-to-put down book and although it is long, I didn't want it to end. You have to find out how/if justice is served and the hilarious quips along the way ensure the journey is enjoyable. As you can probably tell from the title the subject matter is about child abduction so if you do not wish to read such fiction, steer clear. But if you want to be wound up by what people in power could potentially get away with, read it … today!
PS What a haunting cover, don't you think?

The second he grabbed her wrist, going for the thumb lock, India elbowed him in the face and slammed him against the wall. Pressing her forearm into his throat, she growled, "This is your final fucking warning. Don't ever touch me again."
Simon: I love India's feisty 'take no shit' ways.
***
She did not have a problem with authority, and she certainly didn't have one with men. She had an all-encompassing problem with fuckwits and dipshits. And it was non discriminating. She hated them all equally.
***
"For a man who's on leave, you look exhausted," Michael said patting his shoulder.
A good exhausted, Colt hoped. India was on a mission to shag him to death.

If you would like to read about Colt and Kane's struggles in "Baby Snatchers", buy your copy TODAY from Amazon.

Learn a little more about the author and the book with these snippets of previously unknown trivia that Bo has been kind enough to share!
About you
As with all authors, I guess, there's a little bit of me in all of my characters. A trait I share with India Kane is my reclusiveness. I live nowhere. Really, nowhere. I am a mountain dwelling hermit. Phone and internet signals are a modern day luxury, but then only when the weather's fine! I don't even have a proper address. We get mail because the postie knows everyone – if they're taken ill, we're all buggered. Rural Ireland is like that and I love it. The air is pure, the pace is slow, the landscape is inspiring, and if you want bright lights and human interaction, it's only a car journey away. I couldn't think of a better place to live.
About the book
Baby Snatchers was the hardest book I think I'll ever write. It's built on a solid foundation of facts, and the research was absolutely harrowing. Many times it would've been easier to stick it in a drawer, walk away and start something new, but it was a story that gnawed away at me, demanding to be told. So tell it I did. And hit a nerve I did. I went from nought to stalked in less than a month!
Now, I'm not much of a speaker – generally I say all I have to say in my books – and I don't entertain eedjits either (another trait shared with India Kane), but this one I couldn't ignore.
If you're interested in the psycho claiming to be a social worker, who threatened to take my children unless I withdraw the book from sale, you can read about it here: http://bit.ly/1fF9Z20

Connect with Bo Brennan on Goodreads, Twitter or http://bobrennan.wordpress.com/
Baby Snatchers stats:
Amazon.com rating: 5.0 out of 5 stars from 5 reviews
Goodreads rating: 4.88 out of 5 stars from 8 ratings
Price: $2.99
Pages: 417
(Correct at the time of writing.)