Death By ??? Contest Winner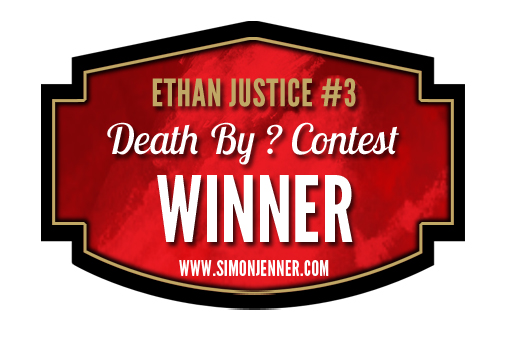 The Ethan Justice #3
'Death By ?' Contest Winner
Is
Joshua with a 'metal ceiling fan blade'
Congratulations!
***
Many thanks to everyone for entering – I had over 50 great entries so there was much deliberating to be done.
Here are a few entries that deserve an honourable mention:
An icicle that melts and leaves no evidence – submitted by Kath and radders42 – clever.
A church key (a kind of bottle or can opener) – submitted by Susan – the true story behind this entry is quite horrific.
The erect member of a fertility statue – submitted by Riley – what can I say?! It's certainly original. I just wasn't sure where to insert it …
A stiletto heel – submitted by Steffi and Damion – Savannah imagines using her heel in Ethan Justice: Origins:
"For a second she had wanted to scream out with glee, sling on her shoes and to stomp a narrow heel through his unseeing eyeball …"
I always considered that one day she would get to carry it out – not yet though!
***
I am now busily writing the scene with the metal ceiling fan blade and hope to finish Ethan Justice #3 soon. [Update: Ethan Justice: Incendiary (#3) is now available.]