Death By ??? Contest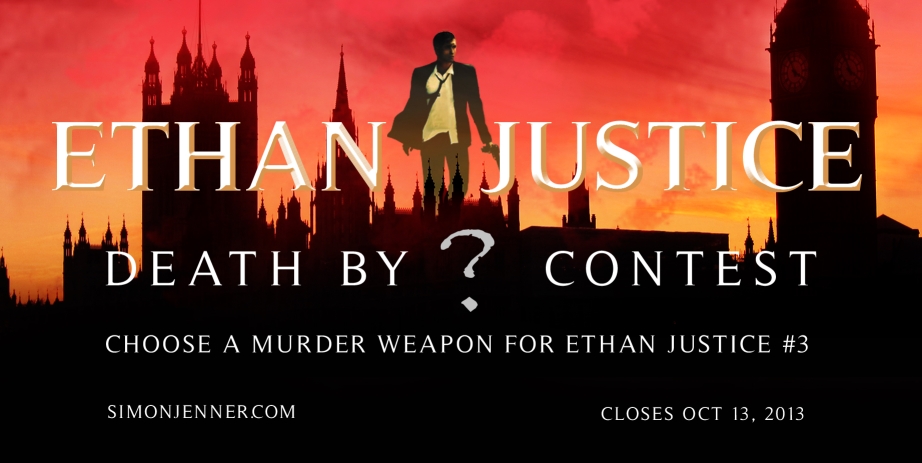 Thank you all for your entries.
The contest is now closed and the winner is … find out HERE.
***
Choose A Murder Weapon
For Ethan Justice #3
Win $25 & Your Idea Featured In My New Book
One lucky winner has the chance to win a prize money can't buy(plus $25 for the things it can)!
Have you ever had a great idea for a murder weapon?Well here's your chance to see it in print!
***
I like to include the odd everyday item as a killing tool in my Ethan Justice books:
#1 Origins – "John, timing his swing to perfection, plunged the broken end of the toothbrush deep into the side of the man's neck."
#2 Relentless – "Wedging one end of a large sausage roll up his nostrils, the youth opens his mouth, gasping for air."
As I'm now close to wrapping up Ethan Justice #3, I thought it would be fun to ask you for your murder weapon ideas. The best one will be forever immortalised in my new Ethan Justice action thriller.
How To enter
Here's the deal. You have until Sunday 13th October 2013 to come up with an everyday item that will be used to bump off a good guy or a bad guy (I haven't decided yet).
Please submit your ideas in either of these three ways:
As a comment at the bottom of this blog post.
On my Facebook page – http://www.facebook.com/SimonJennerAuthor – just leave your idea as a comment on the contest post.
Via Twitter – just copy and paste the following tweet or click HERE to auto generate the tweet and replace the dots with your idea: My #EthanJustice3 murder weapon idea is … @simonrjenner WIN $25 http://smarturl.it/DEATHBY.
Please only submit one entry per channel, but if you have three amazing ideas you may enter three times, once per channel. I will choose my favourite idea and work it into the book. The person who submits the winning idea will receive $25/£15 (via Paypal or Amazon), will be thanked in the book's acknowledgements, and will have a great piece of personal trivia to share. Of course, I'll send you the first pre-publication e-copy of Ethan Justice #3 as well!
Good luck!
Please check out the full contest terms & conditions here: http://simonjenner.com/death-by-contest-terms-conditions/.