The Mystical Wood – Back Story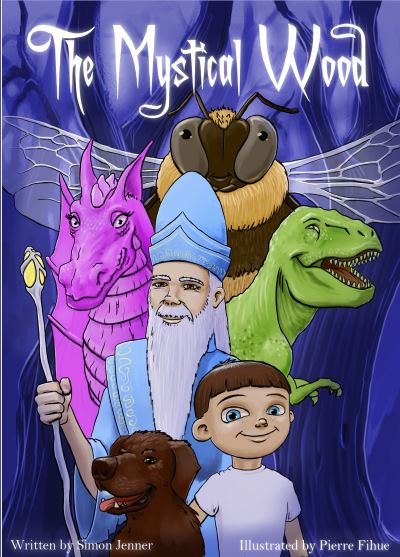 "The Mystical Wood" children's picture book is …
A rip-roaring adventure.
In rhyme.
Perfect to read aloud or alone.
Over 2000 words so great value for money.
Useful to introduce new vocabulary.
Complete with full colour illustrations.
Helpful to promote positive values.
Suitable for ages 5+.
***
To BUY NOW for Kindle or paperback, click HERE.
For more information, click HERE.
To meet the characters, click HERE.
***
The Back Story
In 2007, my son (then aged 6), a prolific drawer of all things monster-like, came to me with three of his best drawings. These were a dragon, a giant bee and a T-Rex.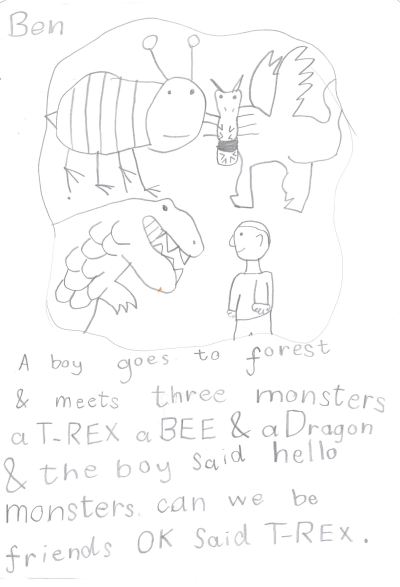 "These are great," I said. "You should write a story to go with them."
"Can't you write a story, Dad?"
"But it's your work, so you should write it."
"Awww Dad."
"But I don't even know what the story is."
"I know," said Ben, "I'll tell you what happens and you can write it."
I attempted to escape my son's natural born manipulative tendencies, but it was only a matter of a few more "Awwws" and "Pleases" before I crumbled. Ben told me the story and knowing he loved the Gruffalo book, I wrote it as a twenty five verse rhyme. It took me about three months of odd, twenty minute pockets of spare time. He loved it as did my wife, Julia.
I resisted the advice of my wife and son to try and get it published as it was overlong and under polished and I really wanted to concentrate on writing a novel.
Eventually, I did send it to an editor for review and they told me, what I already knew, that it wasn't written for an existing market. Books from new authors that could not be translated into multiple languages (due to the rhyming) didn't stand a chance.
More recently, with the current trend for self-publishing, I decided to revamp it and commissioned an excellent artist, Pierre Fihue to provide the drawings. I wanted the story to be exciting, suitably educational and deliver a positive message to children. I am very pleased with the final result, and I hope that you are too.
Please let me have your comments. I would be particularly interested if you have any ideas of what you or your children/pupils would like to see in the sequel which my son is already badgering me for.

Here are Ben's drawings
This is the original artwork that led to the creation of "The Mystical Wood"!

The Wizard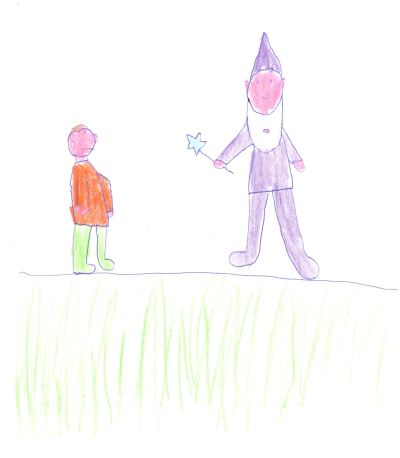 The Dragon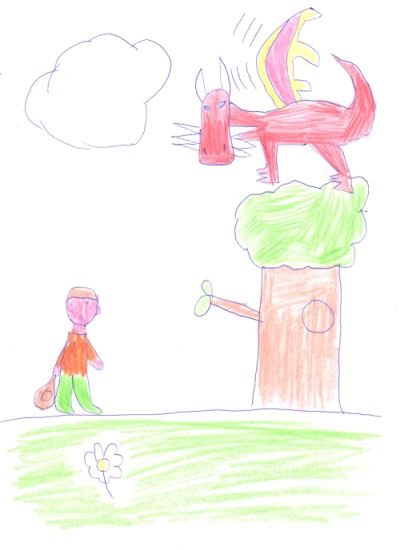 The Giant Bumblebee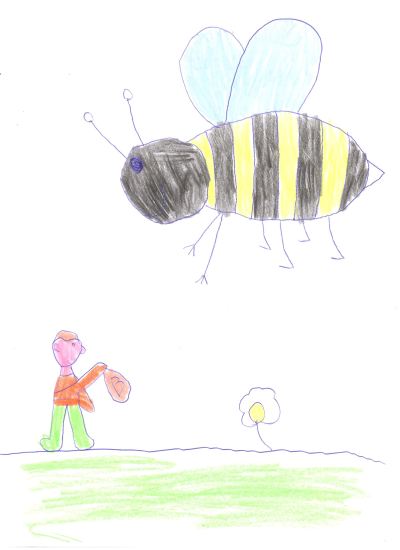 The T-Rex