Welcome To The Mystical Wood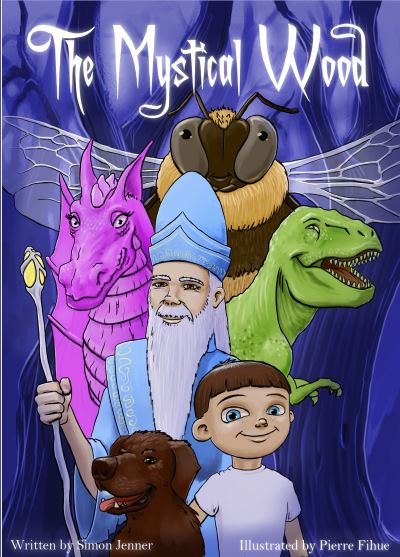 "The Mystical Wood" children's picture book is …
A rip-roaring adventure.
In rhyme.
Perfect to read aloud or alone.
Over 2000 words so great value for money.
Useful to introduce new vocabulary.
Complete with full colour illustrations.
Helpful to promote positive values.
Suitable for ages 5+.
***
To BUY NOW for Kindle or paperback, click HERE.
To meet the characters, click HERE.
To learn how "The Mystical Wood" story came about, click HERE.
***
"The Mystical Wood" is a children's illustrated story book written in rhyme. It is a book to either read together with children or to let them read alone. More than anything else "The Mystical Wood" is a fantastic quest which will have your kids enthralled every time they pick it up.
Enter the incredible world of "The Mystical Wood" and follow a boy's journey as he seeks to retrieve his beloved pet, Max the dog. Upon entering the wood he immediately encounters danger and is helped out by a powerful wizard. The wizard sets him a test to carry out with three gifts in a magic sack. The boy sets off on his journey meeting a T-Rex, a giant bumblebee and a dragon before completing his test. Will the boy and his dog make it home?
"The Mystical Wood" takes a tremendous adventure for children and combines it with the needs of parents and teachers. There is new vocabulary, just enough to make learning fun. The book displays positive values through behaviour, without taking away any fun. Perfect at bedtime as a story to read aloud or as a book for your child to read alone, any time they want. The story is written completely in rhyme, making the experience more exciting and also helping the new vocabulary stay firmly planted in your child's mind.
If you enjoyed The Gruffalo book then I'm sure you will enjoy "The Mystical Wood" and with more than three times the word count there will be three times the enjoyment. "The Mystical Wood" has over 2000 words and has been split into five concise sections, so you or your child can choose how much to read in one go. Read any number of parts or the complete adventure if your child can't wait to get to the end.
Remember, this book has all of the following merits:
A rip-roaring adventure to keep the kids glued throughout.
Perfect to read aloud to a group, together with your child or let your son/daughter/pupil, enjoy the adventure alone.
Introduces additional words to improve reading skills but not so many that it confuses the young reader or spoils their fun.
The complete adventure is composed in rhyme to add to the excitement and to assist the reader in remembering the fresh and new vocabulary.
Tremendous value for your money with over 2000 words of text.
Separated into five parts so you, or your son/daughter/pupil, can decide exactly how much to read. Avoids the problem of knowing when to stop midway through the story.
Every other page of the book is a stunning full colour illustration by acclaimed artist Pierre Fihue.
Affirmative messages are included throughout the story whilst at no time associating these with 'no fun' or lecturing your child.
Suitable for ages 5+ (solely for teacher/parental guidance).